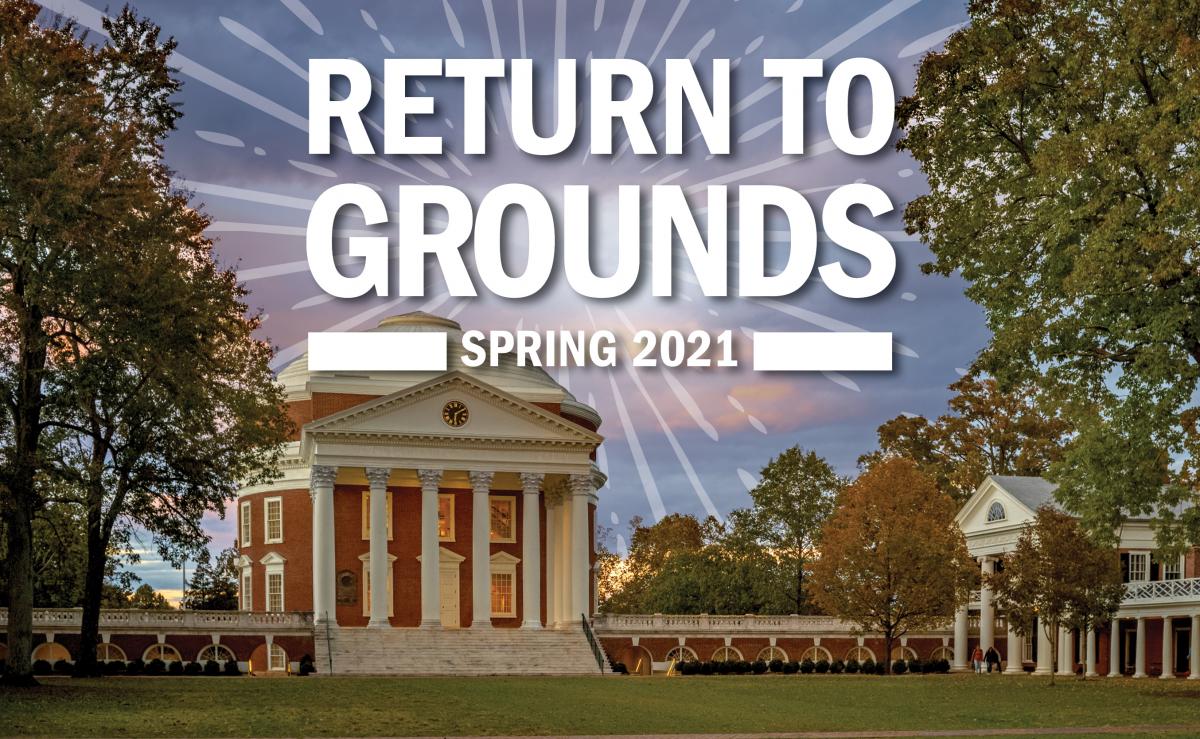 All of us at Housing & Residence Life (HRL) have been hard at work determining the best and safest processes for welcoming you to Grounds for Spring 2021!
---
COVID-19 Policy
Know that while we remain committed to providing the residential experience and support you expect from us, we also expect that our residents will act in the best interests of the community's health. Taking steps to reduce the spread of COVID-19 is a shared responsibility. Therefore, residents living on Grounds are required to comply with health and safety policies, including the COVID-19 policy, adopted by the University and Housing & Residence Life. Failure to adhere to these initiatives may result in immediate removal from University housing, Interim Suspension, and/or disciplinary proceedings.
---
Move-In Process
In order to be cleared to move into on-Grounds housing, students must complete all COVID-19 pre-arrival requirements for the spring semester in SIS. Once cleared, each student's University ID card will be activated (allowing access to undergraduate student rooms) on their scheduled move-in date.
Masks must be worn and social distancing must be maintained at all times during move-in. Students or guests with any symptoms of COVID-19 (fever of 100.0 degrees or greater, shortness of breath, cough) or who are immunocompromised or otherwise at risk should not come to Grounds.
Undergraduate Students
Returning students (those who lived on Grounds in Fall 2020 and are returning to the same room for Spring 2021) will have their room access restored on Friday, January 29, 2021. There are no specific day or time assignments, and residents should feel free to return during the weekend of January 30-31 or during the first week of Spring 2021 classes, as best suits their personal and/or class schedule. Students returning to Grounds will not be permitted to have any guests enter their building with them.
New students for Spring 2021 will be assigned to a two-hour appointment window on either Tuesday, January 26; Wednesday, January 27; or Thursday, January 28. These windows will take place between 9:00 a.m. and 5:00 p.m. each day. Students new to Grounds will be permitted to have two guests maximum enter the building with them to help with move-in. Students with UVA IDs may proceed directly to their housing. Students who do not have their UVA ID cards should bring a valid government-issued photo ID (driver's license, passport or US military ID) in order to obtain their ID card at the ID Office.
Resident staff should plan to return to Grounds between Saturday, January 23 and Monday, January 25, 2021.  All staff must return to Grounds no later than 5:00 p.m. on Monday, January 25.
Graduate Students, Faculty, and Staff
Your move-in date is specified on your housing agreement. You can pick up keys at the Housing & Residence Life Main Office at any time between 8:00 a.m. and 5:00 p.m. on the day your agreement begins. Please see your room assignment and our Graduate Housing FAQ or Faculty/Staff Housing FAQ for other important move-in information.
---
What to Bring
Please see our What to Bring page for a list of suggestions to help you make informed decisions about what to bring into your on-Grounds housing at UVA.
---
Spring-Only Housing
We continue to offer on-Grounds housing for the Spring 2021 semester only to undergraduate students who did not live on Grounds in Fall 2020.
Housing options may be viewed at the following pages:
To apply, log into the housing portal and click on Housing Application.
---
Frequently Asked Questions
Housing Agreements and Charges
I'm a first-year student. Am I required to live on Grounds?
Our long-standing policy is that all incoming first-year students are required to live on Grounds. We are modifying that policy for this year to allow students to remain in their home communities with their parents, guardians, or others. First-year students would be breaching the University's policy if they leased or lived in apartments in the local community.
Will there be changes to my dorm assignment?
At this time, students with a housing assignment for Spring 2021 will be able to remain in their assigned housing. The possibility always exists of reassignment due to evolving health and safety concerns.
Will there be an adjustment to spring housing and dining charges due to schedule changes?
Undergraduate on-Grounds housing residents who remain off Grounds from December 12 until the designated return period for the Spring 2021 term will be eligible for adjustments to their Spring housing charges. Adjustments will take into consideration the University's continuing fixed operational costs for the Housing programs. Spring meal plan charges will not be adjusted as a result of the added Spring Break days and extended exam period.
What happens if I'm not able to move in on my planned date?
If you will arrive after your assigned move-in date, you must inform Housing & Residence Life via email to housingassignments@virginia.edu. Students and faculty/staff residents who arrive after their housing agreement begins will not have any housing charges waived or pro-rated for arriving late.
What if I want to cancel my on-Grounds housing contract after I chose to live on Grounds?
For students who wish to remotely participate in online classes only, Housing & Residence Life will release you from your Spring 2021 on-Grounds housing agreement. Incoming first-years released from their on-Grounds housing agreement are required to live at home, consistent with our fall 2020 housing policies. To request a release, you must notify us via email to housingassignments@virginia.edu. If you notify us by February 8, 2021 and have not moved in, you will not be charged for spring semester housing. If you have moved in, have belongings in the space, or notify us after February 8, we will prorate your housing charge based on when you vacate your housing, and will charge a cancellation fee (for undergraduates) or early termination fee (for graduate students). No refunds will be issued after the beginning of the seventh week of the semester.
Faculty/staff residents should see the housing agreement terms and conditions for information about early termination.
If I decide to not move in for the spring semester, can I still pay for the room so I am eligible to apply for the same housing area for 2021-2022?
There is no policy that prohibits students from paying for housing and not moving in. You must answer "yes" to the SIS question about living/learning in the Charlottesville/Albemarle area, complete the associated requirements, and pay full fees. You do not need to do the pre-arrival COVID test unless/until you plan to come to Charlottesville for any length of time. You should keep your mailing address updated in SIS to reflect your off-Grounds residency.
Roommates
Will students be housed in doubles?
Double rooms will continue to be the default option for housing incoming first-year students.
If my roommate decides not to return for the spring semester, will I be assigned a random roommate?
Housing & Residence Life will fill any vacancies as it deems appropriate. If there is a vacancy in a room, suite, or apartment before or after move-in, any student who has applied for housing may be assigned there. Students may contact the Housing & Residence Life assignments office at housingassignments@virginia.edu if they would like to request someone who wishes to take the vacated space. However, we cannot guarantee that these requests can be accommodated.
2020-2021 Residential Experience
What is different about the student residential experience in 2020-2021?
The residential experience is an important part of life at the University of Virginia. In public spaces, students are expected to follow all University and public health guidelines including the use of PPE and social distancing. There are guidelines for communal bathrooms, including assigning students to specific sinks, stalls, and showers, and limiting the number of students at any given time. Public areas in residence halls undergo increased cleaning efforts and hand sanitizer stands are readily available. All students are provided two cloth face coverings, two 2-ounce containers of hand sanitizer and a touch-tool, which is meant to assist in tasks such as opening doors and punching keypads, hands free.
Is it possible to request housing accommodations if I have an underlying medical condition?
When applying for on-Grounds housing, students may request accommodations through the Student Disability Access Center (SDAC).
What about shared bathrooms and common spaces in residence halls?
Shared bathrooms and common spaces are available to students and require that students adhere to University and public health guidelines. Students are assigned to sinks, stalls, and showers, and we limit the number of students allowed in a communal bathroom at any given time. All public spaces in residence halls undergo increased cleanings.
COVID-19 Precautions
Can I move into University housing if I'm currently in isolation or quarantine due to exposure to COVID-19?
Per University policy, you cannot move in to on-Grounds housing if you are in isolation or quarantine. Please discuss with your local Health Department or physician to determine when your isolation and quarantine period has ended. Please email Housing & Residence Life (housing@virginia.edu) with these dates so we can prepare for your arrival.
How are COVID-19 safety precautions reinforced in the residence halls?
Resident Advisors provide training for dorm residents on rules and regulations pertaining to COVID-19 and how they apply to housing and residence life. If students have questions, Resident Advisors can direct them to additional resources. Failure to comply with University requirements may result in disciplinary action in accordance with relevant policies.
How are we isolating students who contract COVID-19?
First, it's helpful to note that isolation and quarantine are different terms. Isolation refers to cases where an individual has a confirmed infection. Quarantine refers to situations where an individual has been exposed but may or may not be infected. The University has set aside housing for both the isolation and quarantine of students who reside in University housing.
---