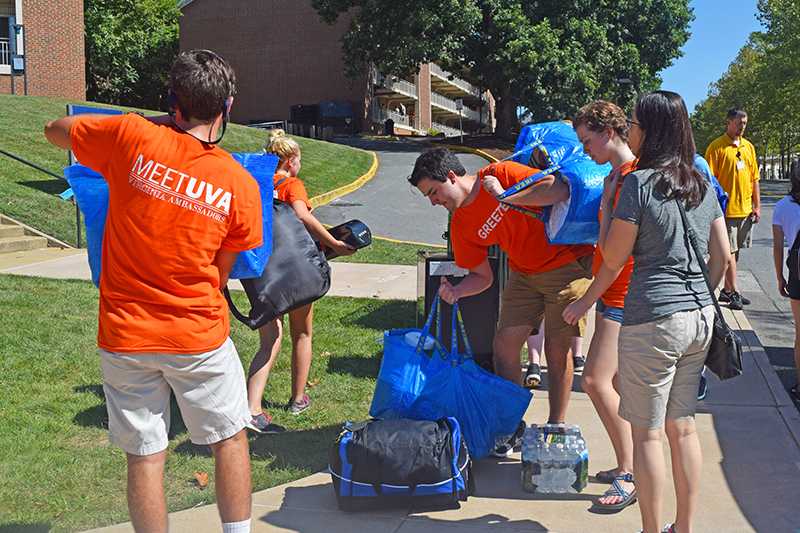 Welcome the Class of 2023
Greeters is a part of Virginia Ambassadors, a student-run organization that partners with the Office of Undergraduate Admission and Housing & Residence Life to provide prospective students with information about student life at UVA, as well as to welcome the incoming first-year class once they arrive on Grounds.
Greeters volunteers are responsible for helping first-year students move into their on-Grounds housing during move-in days each August. This involves transporting boxes, fans, mini-fridges, luggage, and whatever else students may bring with them, generally being available, welcoming, friendly, and ready to assist families as they move their students into their new homes.
Greeters is a unique program in that volunteers are often the first friendly faces students see when they step on Grounds in August as first-years. In addition to helping first-years move into their dorms, volunteers have the opportunity to engage with new students, share their experiences, and help incoming 'Hoos envision the next four years of their lives at UVA. The role of a Greeter is incredibly important and immensely rewarding
Sign Up
To volunteer for this year's program. please use the links below to sign up for the residential area, date(s), and time(s) that you wish to volunteer. This year's first-year move-in dates are Friday, August 23 and Saturday, August 24. Shifts will be 3 hours long, and will run from 8:30 a.m.-5:00 p.m. on Friday, and 7:30 a.m.-6:00 p.m. on Saturday. Shift times are subject to change as logistics are ironed out.
You can sign up to be a Greeter in your own first-year dorm, and please feel free to sign up for more than one shift. Sign-ups will be open until August 1.
Note: If you wish to volunteer for a Friday shift and will be living in on-Grounds housing next year, please complete the Early Arrival Application. Note that the deadline to request an early arrival is 5:00 p.m. on August 13, 2019, and no early arrivals will be granted at Bice House or Bond House.
Also feel free to contact Campbell Farina (csf5zd@virginia.edu) and Kellie Hartless (kmh7xq@virginia.edu) with any additional questions about the Greeters program.