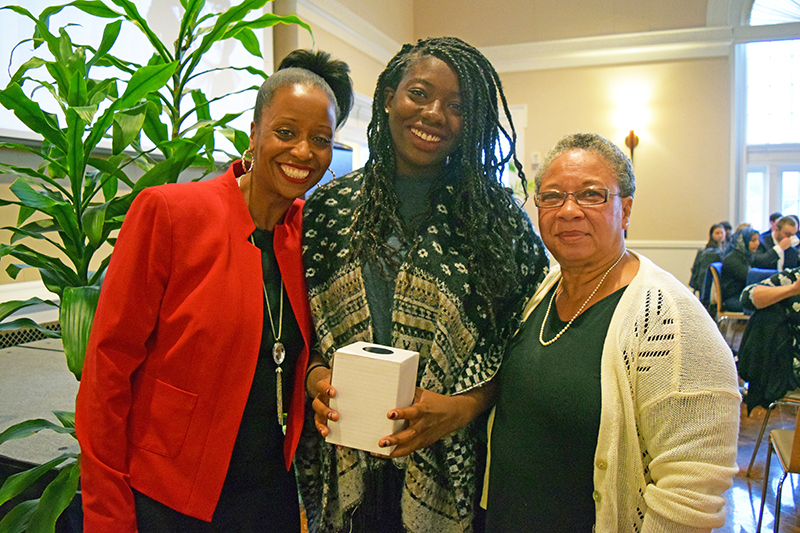 Honoring our People
At the Resident Staff End of Year Banquet, the hard work and dedication of our people is recognized through a series of awards. These awards honor outstanding staff members and on-grounds partners who contribute to the mission and work of Housing & Residence Life.
It is an honor to be nominated for -- let alone win -- one of these awards, because most of the nominations come from the student members of the Resident Staff Program.
THE ANGELA M. DAVIS AWARD
Given in recognition of the individual within the Residence Life program who has empowered students to find their voices and speak out on what is right for the community, or who has used his or her own voice when none other was present. Because this type of courage is illustrated by few individuals, this award is not given on a yearly basis unless there is someone worthy of distinction through their actions. The recipient of this award will be the person who meets most, if not all, of the following criteria:
has used their voice to advocate for diversity and inclusion;
has empowered and guided students toward their personal passions, and educated them on how the systems of the University work in order to better accomplish their goals;
has exercised candid discourse, calling a behavior or issue what it is instead of ignoring or pretending that it is something else;
has used their voice to address unpopular and controversial issues, despite potential negative consequences, because it was the right thing to do.
2010 – MEGAN E. BARRY
2011 – JOSEPH M. NELSON
2012 – KELSEY BOWLES
2013 – VICKI GIST
2014 – MARYAM GHARIBAN
2015 – ARYN FRAZIER
2016 – CORINNE CONN
2017 – ARABA DENNIS
2019 – MARLINA MEJIA
2020 – ANYA KARAMAN
2021 – LORENA TABRANE
THE CHESTER R. TITUS AWARD
Given in recognition of the Resident Staff Program member who actively advanced the value of self-governance within the program. Awardees are staffers who have taken ownership of their experience, provided excellent peer leadership, and sought to empower others to do the same.
This award was established in the spring of 1989 to honor the contributions of Chester Titus to the Resident Staff Program. Chester Titus worked with the Resident Staff Program for over 29 years and was largely responsible for developing the Resident Staff Program at the University. Dean Titus believed in students; he created an atmosphere on Resident Staff where administrators and students worked together as colleagues. As a result of Dean Titus' contributions, Resident Staff is a student organization that has a collaborative, constructive relationship with professional staff.
The award honors a member of the Resident Staff Program who actively advanced the value of self-governance within the Program.
1989 – LAURA V. HARRIS
1990 – WILLIAM D. HUBBARD
1991 – RICHARD P. KEELING, M.D.
1992 – R. JAMES CLACK
1993 – JOHN B. GRIFFIN, JR.
1994 – ROGER M. DEAN
1995 – QUENTON E. TRICE, KAY G. VARNER
1996 – ROBERT E. BARBER
1997 – GORDON M. STEWART
1998 – WANDA L. WEAVER
1999 – JUDITH A. NICKELSEN
2000 – VIRGINIA C. WRIGHT
2001 – SUZANNE NOEL-HARMAN
2002 – TABITHA A. GRAY
2003 – ANNE C. MAGNAN
2004 – LEONARD J. (LENNY) CARTER
2005 – BURT M. JOSEPH
2006 – MR. AND MRS. BRYCE L. HOLLAND AND FAMILY
2007 – OFFICER WILLIAM C. SOWERS
2008 – CHRIS D. PAGE
2009 – SCOTT MILLER
2010 – MICHAEL W. BIRCKHEAD
2011 – PAMELA J. CERSLEY
2012 – ROBERT TAYLOR
2013 – JILL JONES
2014 – ERIN EAST
2015 – TROY MILLER, MARK MADISON, TIM HOFFMAN
2016 – KIMBERLEY BASSETT
2017 – JESSICA THORNTON
2018 -- CARTER MCCANTS
2019 – CHI CHAN, REHAN BADDELIYANAGE
2020 – ERIK TOOR
2021 – ISABELLA POSEY
2022 – SHREYA RAYCHAUDHURI
THE ROBERT T. CANEVARI AWARD
Given in recognition of a member of Resident Staff who fosters the ideals of civility and appreciation of diversity within the University community.
The Canevari award was established in August of 1994. This award recognizes a Resident Staff member who exemplifies Mr. Canevari's commitment and dedication to the ideals above. 
1995 – SAMMIE GENE YOUNG
1996 – HEATHER SUZANNE TROUT
1997 – BARBARA DIA HUTCHESON
1998 – TERRY JEROME DADE, RAJ RAMESH DOSHI
1999 – NATALIE E. SIDNER
2000 – KISA T. PENDERGRASS, CAITLIN L. RYAN
2001 – JENNIFER N. PARKER
2002 – MARIAM S. MITRY
2003 – CHIRAPAR (JOY) TONGSRI
2004 – MICHAEL EHMANN
2005 – BARRIE L. MOORMAN
2006 – ANNA W. LEE
2007 – COLLEEN E. LAURENCE
2008 – EMILY G. FROST
2009 – CHRISTIAN P. WEST
2010 – DIONNA C. ALI, BENJAMIN W. CHRISINGER
2011 – JOSEPH M. NELSON
2012 – MARVIN RICHARDS
2013 – GINA KIM
2014 – MARYAM GHARIBAN
2015 – CORINNE CONN
2016 – DAVID LAI
2017 – ALEX KNUTSON
2018 – NATASHA HALLORAN
2019 – KEIARA PRICE
2020 – KAITLYN DIAZ
2021 – SARAH GAEDECKE
2022 – KYNDALL WALKER
THE SUSAN GROSSMAN MEMORIAL AWARD
Given in recognition of a member of Resident Staff who exemplifies Dr. Grossman's commitment and dedication to fostering a healthy student environment.
This award honors Dr. Grossman's devotion to this ideal, particularly in the area of alcohol and other drug education. Awardees are Resident Staff members who have worked to foster a healthy living environment, provided educational programming on health issues (especially on alcohol and other drugs), and served as a role model for healthy living. 
2002 – CORBIN MARTIN
2003 – CONOR DONAHUE
2004 – NIDHI SACHDEVA
2005 – EMILY W. ARCHAMBEAULT
2006 – MARY K. ST. GERMAIN
2007 – MAYA KUMAZAWA
2008 – SHOKOUFEH DIANAT, EMILY J. KUSIAK
2009 – BRENDAN M. MAHONEY
2010 – MICHELLE HAN, DANIEL J. RAUSA
2011 – BRENDAN T. MARTIN
2012 – ALICIA MURATORE
2013 – KARA ABSHIRE
2014 – MURALI VARADARAJ
2015 – HAWA AHMED
2016 – TAYLOR GESTWICK
2017 – MATTHEW HEINZ
2018 -- WILLIAM DONNELL
2019 – LUKAS PIETRZAK
2020 – ZACHARY ESTESS
2021 – LOGAN MURTHA, MAEOV SAADEE
2022 – NAYANA PAINUMKAL
THE GREGORY J. CANTY MEMORIAL AWARD
Given in recognition of a member of the resident staff who embodies the traits of caring, humility, and fairness that Gregory J. Canty exemplified.
Gregory J. Canty graduated from the School of Engineering and Applied Sciences (SEAS) in 2012 with a Bachelor of Science degree in Chemical Engineering. He served the University for three years as an invested Resident Advisor for first-year communities. Greg worked actively as Assistant Program Coordinator for Resident Advisor Selection and was instrumental in designing the technical components of the application and scoring systems for hiring new resident advisors that reflect his commitment to consistency and equal opportunities for everyone.
2013 – SOPHIE SYED
2014 – KATIE SOMERS
2015 – JOHN MCNULTY
2016 – CONNER HEALY
2017 – JANNATUL PRAMANIK
2018 -- SAVANNAH LANE
2019 – CORBIN MATTHEWS
2020 – SAMANTHA STROHM
2021 – IZABELLE MCREYNOLDS
2022 – REAGAN BRILL
THE MELISSA D. HOLLAND AWARD
Given in recognition of a currently enrolled University of Virginia student who has been involved in the Resident Staff Program for at least two years, and who best exemplified the qualities of compassion, gentleness towards others' feelings, sincerity, and warmth. The Holland Family Endowment also supports travel and staff training, in addition to programming, committees, and special projects.
Melissa D. Holland graduated from the College of Arts & Sciences in 1982 with a degree in English languages and literature. Her many contributions to the University included participation as an outstanding member of the Resident Staff Program for two years. Melissa's sensitivity and concern for others made her an exemplary Resident Advisor. The Melissa D. Holland Memorial Award has been established to remember Melissa through those traits which were so characteristic of her.
1983 – DEBORAH THERESA MASLIA
1984 – CYNTHIA JEAN VAN ZANDT
1985 – REBECCA LYNN RILEY
1986 – MAX DAVID WEISMAN
1987 – CHARLES RANDOLPH SULLIVAN
1988 – J. LYNN CROWDER
1989 – ROBERT CLOUD SEALS, JR.
1990 – ALLEN WILLIAM GROVES
1991 – JENNIFER ANNE WAKELIN
1992 – JOHN SIGMUND GUZIAK
1993 – JENNIFER HUNTER SMITH
1994 – ROBERT BRIAN KEATTS
1995 – JENNIFER KTHLEEN JOINER
1996 – FELICIA GAIL COHN
1997 – LONG PHI HUYNH
1998 – KIMBERLY DOWN WADDELL
1999 – KIMBERLY ANN LEWIS
2000 – DENIS R. MCNAMARA
2001 – C. ELIZABETH BOOTON
2002 – LILLIAN E. LACY
2003 – ERIN-MARIE BURKE
2004 – STEPHANIE NICOLE AUSTIN
2005 – AISHA JOHNSON
2006 – JANE C. ANDERSON
2007 – AMANDA G. LONG
2008 – ROSANNE D. IBANEZ
2009 – VERONICA RIVERA
2010 – MEGAN E. BARRY
2011 – JENNIFER L. EATON
2012 – LAURA KNOWLES
2013 – ARIEL CORNETT
2014 – AMANDA MCKINNEY
2015 – STEVE CANDIDO
2016 – LOGAN DICKINSON
2017 – TRISTAN KISHONIS
2018 – DAVID LAI
2019 – MADELAINE MARTIN
2020 – MARK MAGUIRE
2021 – CATHERINE DENTON
2022 – ANDREW CHIN
THE OUTSTANDING NEW RESIDENT ADVISOR AWARD
The Outstanding New Resident Advisor Award was established in 2019 to recognize a Resident Staff member who has, in the first year of their role, gone above and beyond the call of duty in fostering a welcoming and inclusive environment for their residents and upholding the core values of the program. Awardees are to be first-time RAs who exhibit excellence in their role, establish meaningful and long-lasting relationships with their residents, and demonstrate selfless service to their fellow staff members.
2019 – PATRICK CASEY
2020 – VAISHNAVI KARIMPUZHA, VICTORIA CENTINEO
2021 – ALISA NEGRON-DAMSKY, DEVON ZAVACKY
2022 – SAOIRSE FARRELL
LAST LECTURE SERIES
The Last Lecture Series is a 25-year tradition at the University that invites UVA's finest faculty to answer that the question, "What if this was the last lecture you could ever give?"
Past Last Lecture Series faculty presenters:
1993 – EDWARD AYERS, DR. RICHARD EDLICH, PAULA MCCLAIN
1994 – RAYMOND C. BICE, BERNARD D. MAYES
1995 – RONALD DIMBERG, WILLIAM HARMON, SAUL LEVMORE
1996 – JULIAN BOND, ANGELA DAVIS
1997 – HERBERT BRAUN, WILLIAM MCDONALD, ABDULAZIZ SACHEDINA
1998 – HENRY ABRAHAM, PETER ONUF
1999 – BRAD BROWN, GERALD FOGARTY, GEORGE MENTORE
2000 – JOHN WHEELER, ANN LANE, MICHAEL SMITH
2001 – RICHARD H. DRAYTON, MITCHELL S. GREEN, RICHARD GUY WILSON
2002 – BOB COVERT, JAMES R. SOFKA, KATHRYN C. THORNTON
2003 – JAMES T. CARGILE, ANN B. HAMRIC, WENDE E. MARSHALL
2004 – MARCIA DAY CHILDRESS. JONATHAN D. HAIDT
2005 – J. TAYLOR BEARD, DAVID T. GIES, CHARLES L. PERDUE, NANCY J. MARTIN-PERDUE
2006 – HEATHER ANNE WARREN, MARK EDUMNDSON
2007 – EDWARD L. AYERS
2008 – PETER D. NORTON, R. JAHAN RAMAZANI
2008 – CHARLES MARSH, VALENTINA BRASHERS, M.D.
2009 – CLAUDRENA HAROLD, JOHN QUALE
2011 – ROBERT FATTON, RICHARD HANDLER
2012 – SHARON HOSTLER, MICHAEL SUAREZ
2013 – GERALD WARBURG, ROSALYN BERNE
2014 – SHERRI MOORE, GAVIN GARNER
2015 – GRACE HALE, ALLAN STAM
2016 – JAMES CHILDRESS, MELVIN WILSON
2017 – CARMENITA HIGGINBOTHAM, PETER MAILLET
2018 – SHERRI MOORE
2019 – MICHAEL LEVENSON, ED MURPHY
THE MCNAMARA-MACDONALD AWARD*
Given in recognition of outstanding performance as a graduate advisor in the Residence Life program.
2004 – LUCAN J. (LUKE) GREGORY
2005 – ALEXIS L. ANDRES
2006 – JASMINE H. YOON
2007 – CARLO S. CARRASCOSO
2008 – CRYSTAL L. GOODMAN
THE ANAT LEVTOV AWARD*
Given in recognition of a professional member of the Residence Life office who exemplifies commitment and dedicaton to student development and the core values of the Resident Staff Program.
2006 – CHRISTOPHER L. ELLIOT
2007 – REBEKAH L. STARKENBURG
2008 – STEPHANIE D. NIXON, STEPHANIE N. AUSTIN
2010 – GREGORY S. STREETER
2011 – GREGORY S. STREETER
2012 – SHAWN COMEAU
2013 – VICKI GIST
2014 – CODY WARD
2015 – VENUS MILLER
2016 – COUNTESS HUGHES
---
* These awards have been discontinued and are no longer presented.