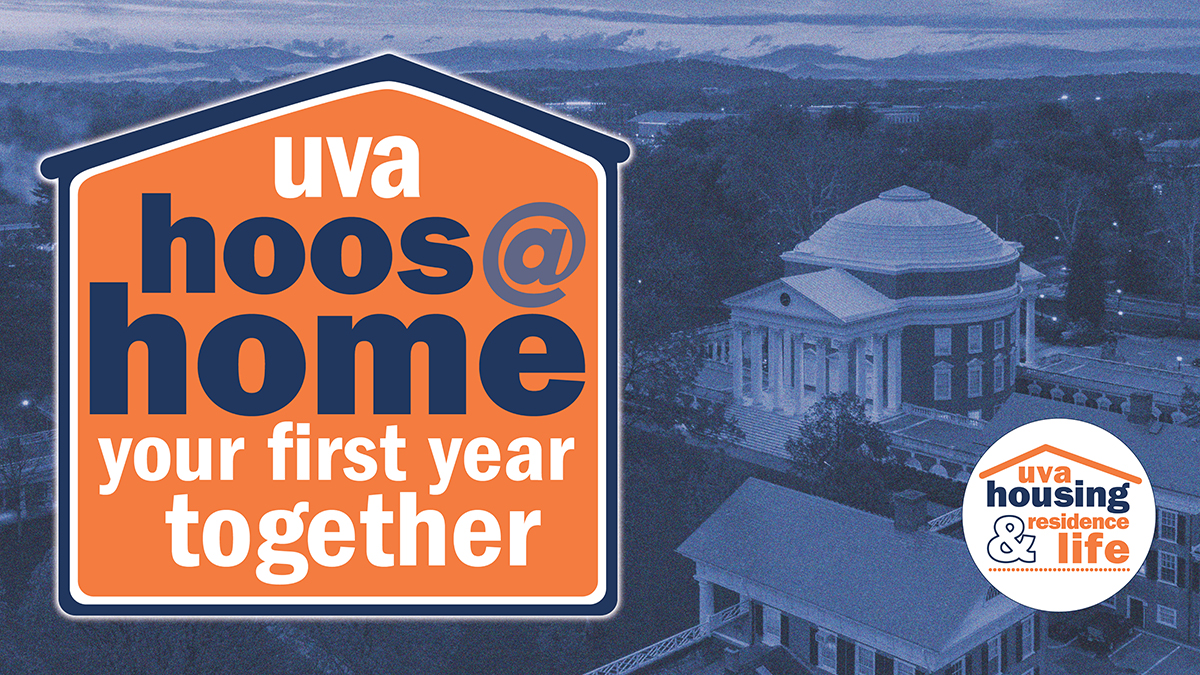 Your first year together
Hoos@Home is a new academic pilot program that will be held in select first-year housing associations -- Dillard, Metcalf/Lefevre, and Tuttle-Dunnington -- in the 2023-2024 academic year.
Residents do not need to sign up for Hoos@Home, but will be able to participate in and take advantage of the program's resources and support simply because of where they are living.
Program Perks
Weekly Association Dean Advising and Career Advising
Dedicated time slots each week for residents will allow you to meet with an association dean or career advisor to receive personalized guidance, discuss academic goals, seek advice on course selection, and explore potential career paths.
Fall office hours will be as follows.
Dillard
Academic Advising
Kevin Rose
kevinrose@virginia.edu
Thursdays, 4:30-6 p.m.
Study Room 151
Career Advising
Advisors from the Career Center
Thursdays: 9/14, 10/5, 10/26, 11/16, 12/7 4:30-6 p.m.
 
Tuttle-Dunnington
Academic Advising
Sandra Seidel
ss5yr@virginia.edu
Mondays, 3-4:30 p.m.
Group Study Room 113
Career Advising
Advisors from the Career Center
Mondays: 8/28, 9/18, 10/9, 10/30, 11/20, 12/11 3-4:30 p.m.
 
Metcalf-Lefevre
Academic Advising
Melissa Frost
mjf4xk@virginia.edu
Mondays, 4:15-5:30 p.m.
Study Room 008 (ground floor)
Career Advising
Advisors from the Career Center
Mondays: 9/4 (Labor Day); 9/25, 11/6, 11/27 4:15-5:30 p.m.
Casual Faculty Lunches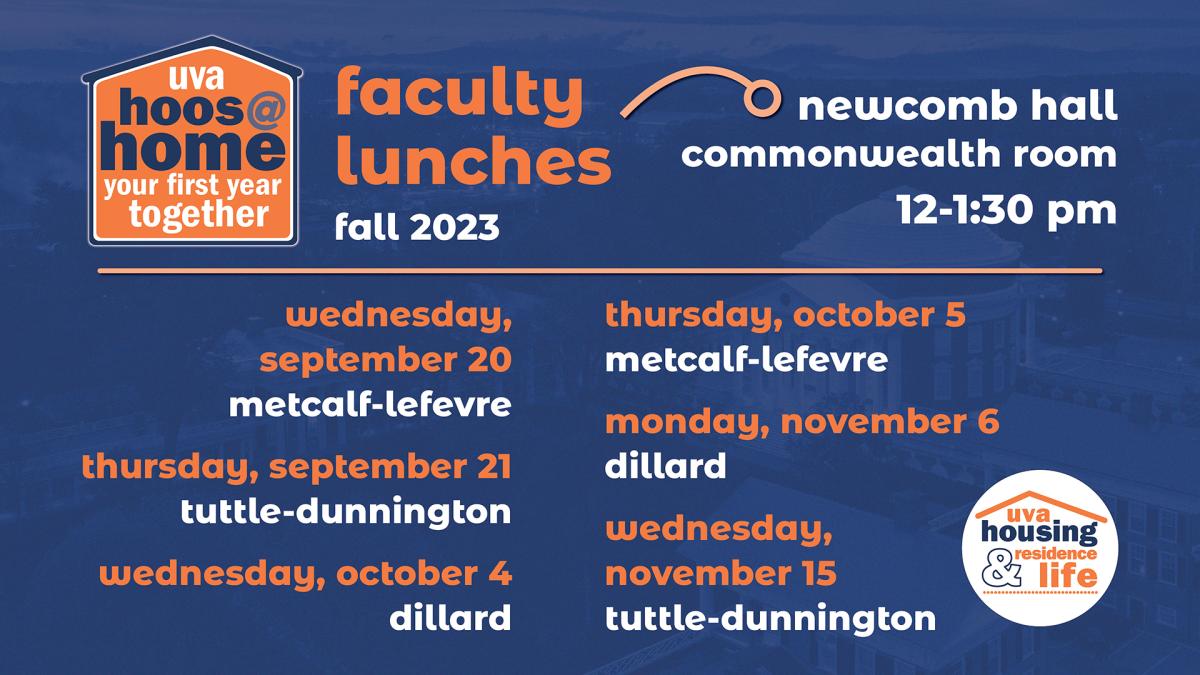 Casual faculty lunches in the Newcomb Commonwealth Room will offer an informal setting where you can engage with professors and deans, ask questions, and gain valuable insights outside of the classroom.
All faculty lunches will take place between 12 and 1:30 p.m.:
Wednesday, September 20
Metcalf-Lefevre
Thursday, September 21
Tuttle-Dunnington
Wednesday, October 4
Dillard
Thursday, October 5
Metcalf-Lefevre
Monday, November 6
Dillard
Wednesday, November 15
Tuttle-Dunnington
Learn how to Outsmart Your Brain
The book Outsmart Your Brain by University of Virginia psychology professor Daniel Willingham as a primary resource for Hoos@Home. The book delves into the science of learning and provides practical strategies for maximizing cognitive potential. Residents can obtain a free copy of Outsmart Your Brain to read and apply its principles to their academic endeavors!
Professor Willingham will hold office hours this fall from 3:30-4:30 p.m. on Tuesdays and 10 a.m.-12 p.m. on Wednesdays in 410 Gilmer Hall! He is available to connect over the book and as a resource to residents. We also encourage residents to visit danielwillingham.com and youtube.com/@dbw8m to learn more!
Book Club Opportunities
RAs in these first-year housing associations will host book clubs where residents can discuss key concepts from Outsmart Your Brain with fellow students, sharing insights, and supporting each other in their learning explorations. The book clubs are designed to offer a vibrant space for thoughtful exchange by cultivating a sense of community and intellectual curiosity within first-year associations. Residents should be on the lookout for book club information from their Senior Resident (SR) or RA after moving in this August!
Questions?
If you have questions about the Hoos@Home first-year academic pilot program, please feel free to email Housing & Residence Life at housing@virginia.edu.