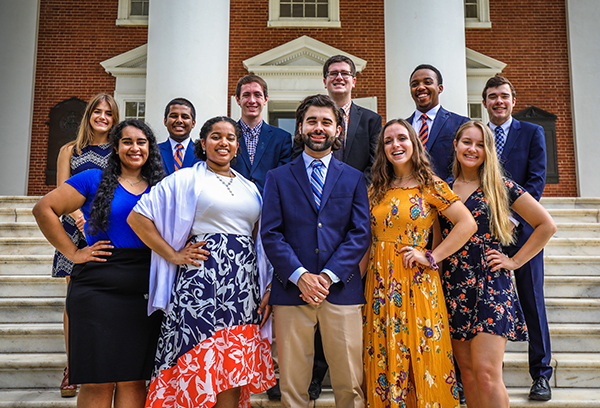 Help Create Community at UVA
Housing & Residence Life invites applications for Resident Advisor (RA) positions in the coming academic year during the fall term.
 
---
All those with questions or who are interested in applying to the program are encouraged to attend information sessions to learn more!
2024-2025 Resident Advisor Selection Information Sessions
Monday, September 4, 6:30-7:30 p.m.
Clark 107
Wednesday, September 6, 7-8 p.m.
Shannon 107
Tuesday, September 12, 6-7 p.m.
New Cabell 489
Monday, September 18, 4:30-5:30 p.m.
Ern Commons
Sunday, September 24, 4-5 p.m.
Thornton E303
Tuesday, September 26, 7-8 p.m.
Student Health and Wellness 100A
Thursday, September 28, 5-6 p.m.
New Cabell 132
Wednesday, October 4, 6:30-7:30 p.m.
Clark 102
Friday, October 6, 5-6 p.m.
Shannon 107
Monday, October 9, 7-8 p.m.
New Cabell 107
---
2024-2025 Resident Advisor Selection Key Dates
Application opens
Monday, September 11, 2023
 
Application deadline
Wednesday, October 11, 2023 (at 12 noon)
 
Group interviews
Saturday, October 21 and Sunday, October 22, 2023
 
General individual interviews
Saturday, November 11, 2023 (by invitation only)
HRL in Color
Wednesday, September 27, 7-8 p.m.   |  MSC
HRL in Color is an opportunity to build connections between interested RA candidates of various identities and current RAs that share those similar identities. HRL in Color is open to all, and will consist of informative activities where prospective applicants can receive support and gain a better understanding of what the RA role entails.
Selections Application Assistance
RA Impact on Financial Aid with Student Financial Services
Wednesday, September 13, 4-5 p.m.
Student Financial Services presentation slides
Written Application Workshop with the UVA Writing Center
Tuesday, September 19, 6-7 p.m.  |  Rouss-Robertson 403
UVA Writing Center presentation slides
---
Have questions?
See answers to common questions about being an RA at our Resident Advisor FAQ. If you have additional questions, please email selections@virginia.edu. Also like the Resident Staff Facebook page and Instagram to keep in touch!
The University of Virginia is an equal opportunity and affirmative action employer. Women, minorities, veterans, and persons with disabilities are encouraged to apply. Students with a disability who desire accommodation in the Resident Advisor application process should email selections@virginia.edu.