Heating and Cooling
You have a part to play in keeping your housing comfortable! Different housing areas have different heating and cooling systems, which you can learn more about below.
A great tip for all areas is to not introduce moisture into your housing. Wet clothes, towels, etc. should be hung up immediately in order to allow circulating air to dry them.
If you are experiencing a problem with your heating or cooling and need additional assistance, you can report the issue using the Work Order Management System.
Fixed Heating and Cooling Systems
Please note that the following residence areas use systems that can operate only on cooling or heat. In these areas, the University makes an informed decision on when to switch from one system to the other.
Brown College
Faulkner Apartments
Maison Française (French House)
Gooch/Dillard
Hereford College
Johnson, Malone, & Weedon Houses
Casa Bolívar (Spanish House)
Heating
Is your room too cold? If your heat appears not to be working, make sure to move furniture and other items (wardrobes, clothes, etc.) at least three feet away from your heating unit or radiator. Blocking the air flow keeps your room from being properly heated or cooled, so make sure that the heat can circulate freely throughout the room.
Also avoid putting anything that generates heat (i.e. refrigerators or computers) too close to your heating unit. This may block the sensor on units that have them. Blocked sensors may register the room as too hot or cold.
On radiators, check to see if the control valve is open. If you have a radiator that remains cold to the touch, you can report the problem using the Work Order Management System.
Cooling
Undergraduate Apartments
Air conditioning in undergraduate apartments should be kept running with a low fan setting to prevent prevent moisture build-up. It is best to keep the temperature consistent (not at diferent temperatures during the day and night). Other tips:
Do not turn the A/C off when leaving your apartment.
Keep windows closed. Open windows allow humidity to enter your apartment.
Graduate and Faculty/Staff Housing
Air conditioning in some on-Grounds apartments need to be turned on in order to minimize humidity and prevent moisture build-up:
Copeley Hill Apartments (primarily dial function)
Piedmont Apartments (primarily digital)
University Gardens Apartments (primarily digital)
The pictures below show the two different types of A/C units in these areas, and how they should be set to keep apartments at a comfortable temperature while minimizing humidity. Please adjust your A/C unit to the settings shown here.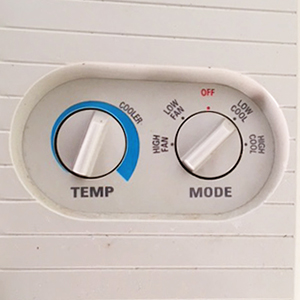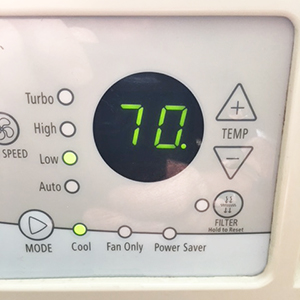 Once the unit cools the apartment to the temperature as set, the compressor will turn off but the fan will continue to run. When the apartment becomes warmer than the temperature set, the compressor will turn on and begin the cooling process. While this creates some noise, it is best to keep A/C  units on at all times during the spring and summer. In addition, please leave your doors and windows closed when using your A/C unit.
It is also imperative that you leave the A/C on if you go away for an extended period of time. Please leave your unit running at 76 degrees Fahrenheit for digital, or on the setting depicted above if you have a dial unit. If you plan to be out of the area for longer than a week, please email housingassignments@virginia.edu. Our Facilities staff will stop by apartments to turn on A/C units if they are not left running when you leave.