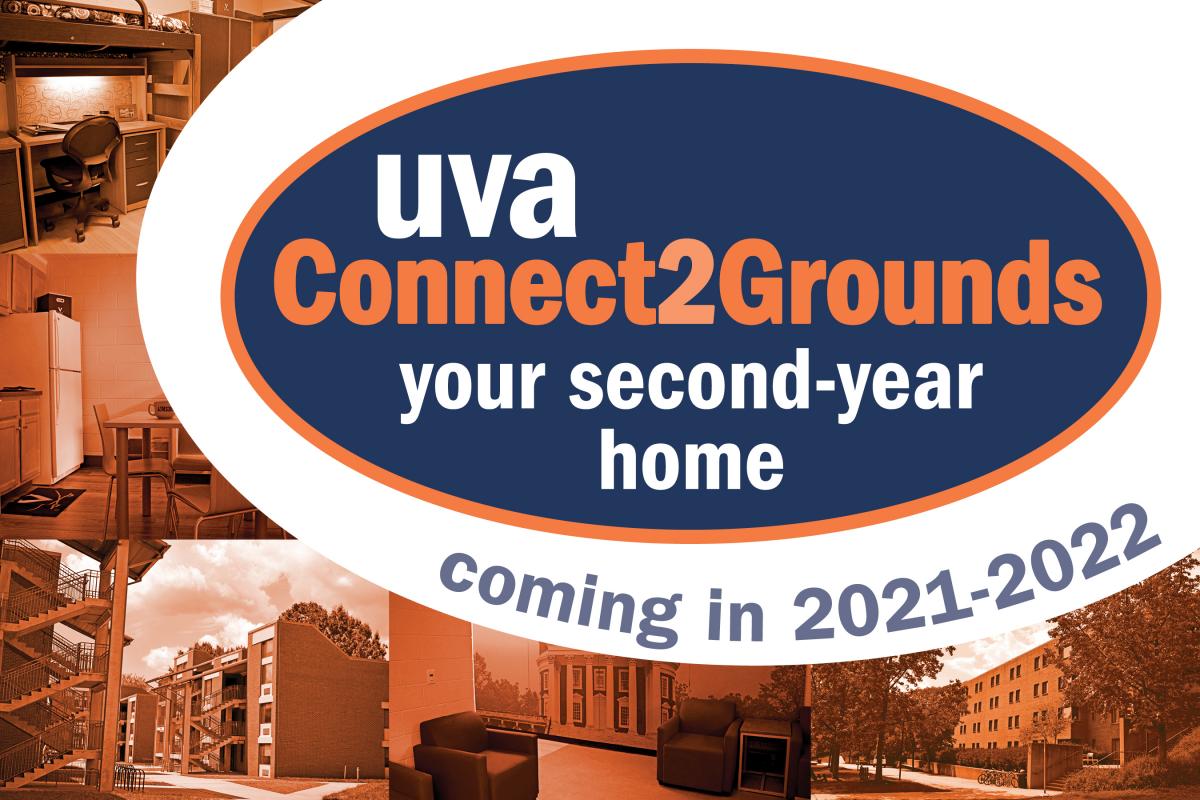 Be supported in community
Have the on-Grounds residential experience that wasn't possible your first year
Connect2Grounds is a new on-Grounds residential program designed specifically for rising second-year students. Signature program events will be offered through two designated hubs at Johnson, Malone, and Weedon Houses and Lambeth Apartments. Through these events and targeted learning outcomes, Connect2Grounds seeks to fulfill goals in the University's strategic plan, "providing students a meaningful opportunity to live and learn together in a diverse and inclusive community" while helping prepare them "to live and lead in an increasingly diverse world." Second-year students will learn both interpersonal and intrapersonal skills as they actively participate in a shared living environment; develop leadership, communication, and practical skills; and create connections within the University and greater Charlottesville community.
 
Connect2Grounds RAs will be your go-to guides for your second year and beyond
To offer additional support to second-year students participating in Connect2Grounds, Resident Advisors (RAs) in the program's two community hubs will be third- and fourth-year students. Resident Staff are pivotal in developing strong residential communities across Grounds, especially within our first-year residence halls, and now with Connect2Grounds. We will provide these third- and fourth-year student RAs with training specifically designed to meet the needs of second-year students. RAs will get to know their residents individually, plan events, and coordinate bonding activities that will not only be enjoyable but will prepare students to succeed at the University. Having a large team of RAs for each hub means they will be nearby to provide support and answer questions. RAs will also share opportunities available to the hub through the Residential Leadership Experience (RLE) program and keep residents in the loop of happenings at the University.
View the webinar
Watch our webinar to learn more about the Connect2Grounds program!
Join Assistant Dean Demetrice Baskerville to learn more about the meaningful opportunities Connect2Grounds offers to live and learn together on Grounds in a dynamic, inclusive community.
Community Hubs
Two designated residential community "hubs" on Grounds will provide the settings for students to engage with Connect2Grounds events and activities: Johnson, Malone, & Weedon Houses (JMW) and Lambeth Apartments.
JMW (Runk Green Space) will be the hub for rising second-years who missed out on living on Grounds their first year, or who want to continue in a traditional residence hall. With single rooms available, JMW offers a simpler lifestyle, no need to clean a kitchen or bathroom, and easy access to Runk Dining Hall.
Lambeth (Lambeth Commons) will be the hub for rising second-years who were on Grounds this year, or who want a more independent living opportunity. Students who missed out on having a roommate may enjoy living in a double room and having that experience next year while also trying apartment living.
How to Apply
Rising second-year students who want to apply to the Connect2Grounds program will do so as part of the standard housing application process for 2021-2022, which opens on Monday, February 15, 2021 with a deadline of Thursday, February 25, 2021.
The order of 2021-2022 housing application phases is designed to ensure that rising second-year students who wish to live on Grounds will be able to do so.
Current on-Grounds residents returning to the same room or same housing area
 
Connect2Grounds: Rising second-years who lived at home in 2020-2021
 
Connect2Grounds: Rising second-years who lived on Grounds in 2020-2021
 
All other areas: Rising second-years who lived on Grounds in 2020-2021
 
All other areas: All students who do not yet have housing
Questions?
If you have questions about the Connect2Grounds second-year residential program, please feel free to email Housing & Residence Life at housing@virginia.edu.