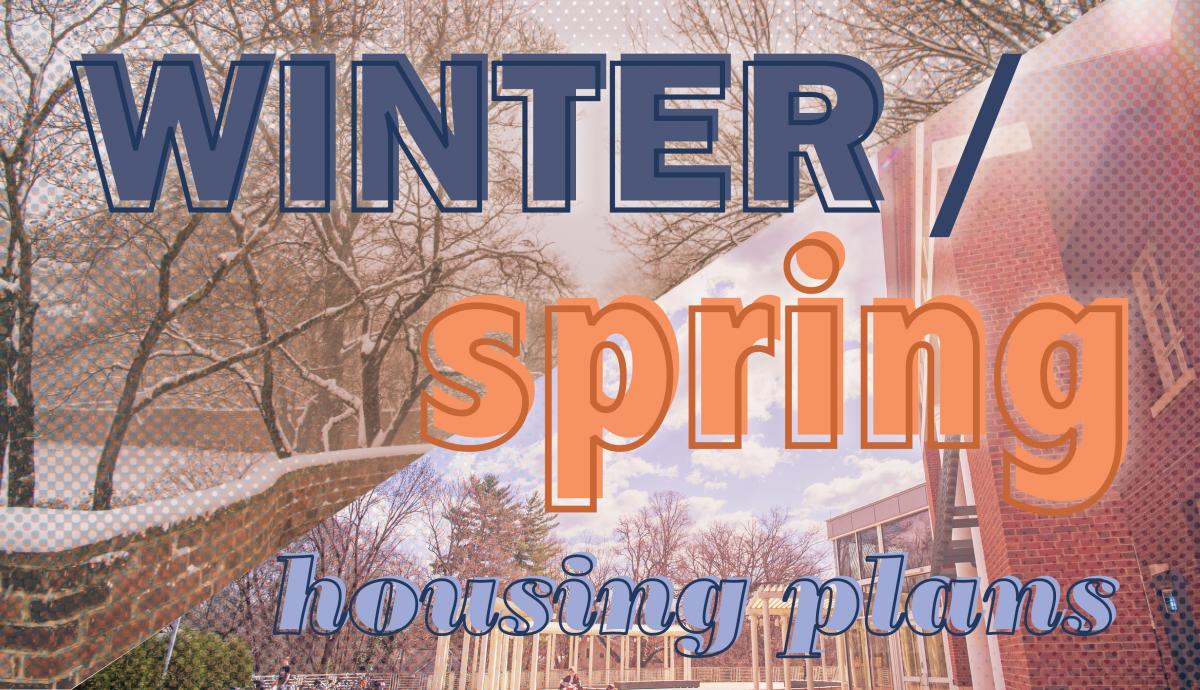 You may be thinking ahead to final exams and going home to see family and friends. Below is some information to help you prepare for the end of the Fall 2020 semester, and beyond.
Just like most things in 2020, the approach and process for housing during the Thanksgiving recess, Winter Break, and Spring 2021 will be different this year. This year, all students are required to communicate their need for on-Grounds housing. We understand that some students need to remain on-Grounds during the coming holiday breaks; however, if you are cleared to live in on-Grounds housing at any time, you need to be prepared for required prevalence testing and reduced services on Grounds.
Or, if you're a student who lived off-Grounds in Fall 2020 and you wish to live on-Grounds in Spring 2021, you can apply for spring-only housing at our housing application page.
Winter Break & Spring Undergraduate Housing (2020-2021)
Students living in upperclass communities, residential colleges, or language houses (i.e., anywhere other than Alderman Road, Gooch/Dillard, or McCormick Road) who return home for Thanksgiving should not plan to come back to Grounds until the beginning of the Spring semester. First-year residence areas (Alderman Road, Gooch/Dillard, and McCormick Road) will close between the fall and spring semesters.
All on-Grounds residents need to let us know their plans for housing for Winter Break and the Spring 2021 semester.
Winter Break/Spring Housing Form
To communicate their need for on-Grounds housing, all on-Grounds residents must complete the Winter Break/Spring Housing Form on the housing portal by Thursday, November 12 at 11:59 p.m. After logging in, click on "Winter/Spring Plans" in the navigation bar, and indicate your housing needs by selecting the timeframes when you have to be on Grounds.
The Winter Break/Spring Housing form is also where you may request cancellation of your Spring 2021 housing, if you do not plan to return to Grounds after Winter Break.
In anticipation of the impact an extended Winter Break may have on first-years in particular, limited Winter Break housing is being offered for first-year students who need to remain on Grounds. Winter Break housing will be located in University Gardens or Lambeth Field apartments. First-years who wish to apply may do so while completing the Winter Break/Spring Housing Intent form.
On-Grounds room/housing access will be turned off during the timeframes not selected on the form.
Students who remain off Grounds until the designated return period for the spring term will be eligible for adjustments to their housing charges. Any adjustments will take into consideration the University's continuing fixed operational costs for the housing program. Upperclass students who stay on Grounds and first-year students who are approved for Winter Break housing will not receive any adjustment to their spring housing charges for the delayed spring semester opening.
Winter Break reminders
Please remember that in-person instruction is ending by Thanksgiving in an effort to minimize travel and possible transmission of the virus. If you will be leaving Charlottesville, please make plans to stay at your destination until you return in January.

Students leaving for Winter Break who plan to return for Spring 2021 do not need to move out their belongings.

Students who cancel their Spring 2021 housing do need to move out all personal possessions when they leave for Winter Break. Please note that an exception to the guest policy will be made only for students who not returning in the spring, allowing one helper to enter the building to assist on the day the student moves out. All guests coming to Grounds need to wear face coverings and abide by social distancing guidelines.
Students who leave Grounds for Winter Break should make sure to take all important belongings, such as passports, medication, etc.

Please keep in mind that this break is longer than in previous years, so you'll want to be certain you're packing appropriately (bringing enough clothing with you, etc.).



Any student who chooses to remain in on-Grounds housing during the Winter Break period should be prepared for reduced services and must be ready to accept increased responsibility for their personal safety. Please carefully read the Safety Reminders and Facilities and Services information below.
Safety Reminders
Housing in University of Virginia residences during holiday breaks is offered under the same terms and conditions as stated on your academic year Housing Agreement. There may be very few residents staying on-Grounds during these times.
You will be responsible for your personal safety, and must take care to safeguard it at all times. Please take the following precautions:
Please note that COVID-19 policies, including all requirements, guidelines, and precautions, will be in effect for Winter Break.
The Dean on Call system will be operational for students. If you have any concerns and want to discuss them with a dean in the Office of the Dean of Students, please call 434.924.7133, Monday to Friday, 8:00 a.m.-5:00 p.m. After 5:00 p.m. and on weekends, contact UVA Police at 434.924.7166 and ask them to refer the issue to the Dean on Call.
Call 911 if you need help.

If you notice anything suspicious or unusual, or at any time think that your personal safety is at risk, please contact the University Police at 911 immediately.
Consider keeping a cell phone with you at all times, in case you need to call 911.

Be aware of your surroundings at all times.

Check to make sure that you are aware of who is in the common areas and hallways of the building before venturing into them.
Check the bathroom area before entering.

Walking

Plan ahead to ensure that you stay in well-lit areas at dusk, dawn, or when it is dark.
Do not walk alone after dark; walk with a friend.

Doors and Windows

Keep your room/suite/apartment door locked at all times. This includes when you are in the room and when you leave for any reason.
Do not prop open any doors.
Do not let anyone into the building. Anyone authorized to stay must use his or her own access card to gain entrance to the building.
Do not unblock or leave any windows open.

Guests

Consistent with both our COVID-19 policy and our standard Winter Break policy, non-resident guests are not allowed to enter the buildings during the break period.
Facilities
Report all doors, locks, windows, or lights in need of repair to the Facilities Service Desk.
Fire alarm system testing, as well as repair and renovation projects, will be conducted in all facilities during the break period.
Building Closures
The following buildings will be closed through January 24, 2021:
Newcomb Hall (Exception: Thursday, November 26 from 10:00 a.m.-3:00 p.m. to accommodate Thanksgiving meal service in Fresh Foods.)
1515 University Ave
Please see the UVA Operating Status Board for other building closures.
Dining
Meal plans will not be available for Winter Break and J-Term.
UVA Dine will have a limited dining schedule during Winter Break and J-Term. For more information and location schedules, please see their online hours of operation.
Mail
All on-Grounds mailrooms will be closed on weekends and University holidays.
Monday, November 23-Tuesday, November 24: All mailrooms will be open from 2:00-5:00 p.m.
Monday, November 30-Friday, December 11: Shannon and Page mailrooms will be open from 2:00-5:00 p.m.

The Runk mailroom will be closed. Students who typically pick up mail at Runk will pick up mail and packages from the Shannon mailroom.

Monday, December 14-Friday, January 29: The Shannon mailroom will be open from 1:00-4:00 p.m.

Students who typically pick up mail at Page or Runk will pick up mail and packages from the Shannon mailroom.
Please note that the Shannon mailroom will be closed from Monday, December 21 through Friday, January 1, as well as on Martin Luther King, Jr. Day (Monday, January 18).

Mailrooms will resume normal operations on Monday, February 1.
Bus Service and Transportation
On-Grounds bus service will operate on significantly reduced schedules. See Parking & Transportation's Service Schedules page for specific information.
Safe Ride will provide after-hours transportation as follows:

Beginning Monday, December 14, 2020, Safe Ride services are available daily from 5:00 a.m. to 7:30 a.m.and 10:00 p.m. to 12:00 a.m.
Safe Ride will not be in service from 12:00 a.m. on Saturday, December 19, 2020 through the morning of Sunday, January 3, 2021.Safe Ride services will resume at 10:00 p.m. on Sunday, January 3, 2021.
Before Leaving for Winter Break...
Please keep in mind that this break is longer than in previous years, so you'll want to be certain you're packing appropriately (bringing enough clothing, etc.).
Remove all holiday decorations.
Make sure all water faucets are turned off to prevent water damage.
Turn room lights off. Draw the shades/blinds and lock all windows and doors.
Empty trash and recyclables.
Do not leave your bike outside! It is more secure if you put it in your room.
Motorcycles and mopeds, however, must be stored outside. They are a potential fire hazard and will be removed from student rooms.
UNPLUG all electrical equipment.
Empty, clean and unplug your refrigerator. Leave the refrigerator door open to prevent mildew.
Make sure that common spaces are cleaned and ready in the event that a new resident moves in. Students living in suites and apartments may receive a new suitemate or apartment-mate for Spring 2021.
Take home any valuables, including important belongings such as such as passports, medication, etc.