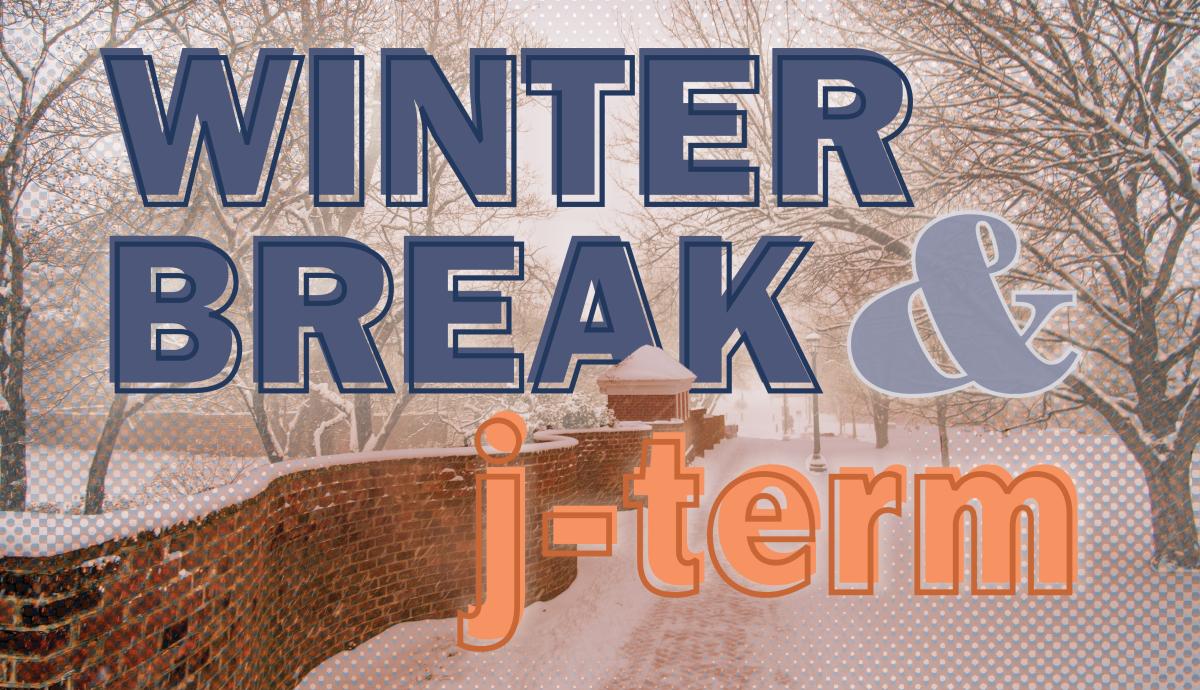 You may be thinking ahead to final exams and going home to see family and friends. Below is some information to help you prepare for the end of the Fall 2022 semester, and beyond.
Or, if you're a student who lived off-Grounds in Fall 2022 and you wish to live on-Grounds in Spring 2023, you can apply for spring-only housing beginning on November 1 at our housing application page.
Not Returning for Spring 2023?

Undergraduate residents who are graduating, going abroad, transferring, or will otherwise not be enrolled at the University for Spring 2023 should complete this one-question survey by Friday, November 11 to let us know. Students not returning must vacate their rooms by noon on Saturday, December 17, 2022.
---
Winter Break & Spring Housing Dates (2022-2023)
Friday, December 16
Fall 2022 exams end
Saturday, December 17 at noon
First-year residence halls close
upperclass housing areas remain open
upperclass students not returning for Spring 2023 must move out
Monday, January 2
First-year residents who need to be on Grounds for J-Term may return
Monday, January 2 - Friday, January 13
J-Term
Sunday, January 15
First-year residence halls open for Spring 2023
Wednesday, January 18
Spring 2023 classes begin
---
Safety Reminders
Housing in University of Virginia residences during holiday breaks is offered under the same terms and conditions as stated on your academic year Housing Agreement.
If you choose to remain in on-Grounds housing during Winter Break and/or J-Term, there may be very few residents staying on-Grounds during these times. You should be prepared for reduced services and ready to accept increased responsibility for your personal safety, which you must take care to safeguard at all times. Please take the following precautions:
The Dean on Call system will be operational for students. If you have any concerns and want to discuss them with a dean in Student Affairs, please call 434.924.7133, Monday to Friday, 8:00 a.m.-5:00 p.m. After 5:00 p.m. and on weekends, contact UVA Police at 434.924.7166 and ask them to refer the issue to the Dean on Call.
Call 911 if you need help.

If you notice anything suspicious or unusual, or at any time think that your personal safety is at risk, please contact the University Police at 911 immediately.
Consider keeping a cell phone with you at all times, in case you need to call 911.

Be aware of your surroundings at all times.

Check to make sure that you are aware of who is in the common areas and hallways of the building before venturing into them.
Check the bathroom area before entering.

Walking

Plan ahead to ensure that you stay in well-lit areas at dusk, dawn, or when it is dark.
Do not walk alone after dark; walk with a friend.

Doors and Windows

Keep your room/suite/apartment door locked at all times. This includes when you are in the room and when you leave for any reason.
Do not prop open any doors.
Do not let anyone into the building. Anyone authorized to stay must use his or her own access card to gain entrance to the building.
Do not unblock or leave any windows open.
Facilities
Report all doors, locks, windows, or lights in need of repair to the Facilities Service Desk.
Fire alarm system testing, as well as repair, renovation, and maintenance projects, will be conducted in all facilities during the break period. All doors will be locked on exit, so please make sure to keep your ID card and keys with you at all times.
Please see the UVA Operating Status Board for information about any building closures and available services on Grounds.
Dining
Meal plans will not be available for Winter Break and J-Term.
UVA Dine will have a limited dining schedule during Winter Break and J-Term. For more information and location schedules, please see their online hours of operation.
Mail
Mailroom hours will be limited during Winter Break and J-Term.
Be sure to pick up any mail and packages that you will need before the mailrooms close on Friday, December 16.
From December 19-23, please call the Cauthen mail processing center (434.924.3421) to confirm the hours your mailroom will be open each day.
The Cauthen mail processing center will be open from 2-5 p.m. on Monday, December 19 to Friday, December 23.
Packages will not be delivered to the University on the days that the University is closed (December 24, 2022-January 1, 2023).
During J-Term (January 2-13, 2023), package pick-up will be limited. Residents will be notified by email when a package has arrived. Please call the Cauthen mail processing center (434.924.3421) to confirm the hours your mailroom will be open each day.
All mailrooms will open for regular hours on Monday, January 16.
Bus Service and Transportation
On-Grounds bus service will operate on significantly reduced schedules:
There will be no UTS service on the following dates:

Saturday, December 17-Sunday, December 18
Saturday, December 24-Monday, December 26
Saturday, December 31-Sunday, January 1
Saturday, January 7-Sunday, January 8
Saturday, January 14-Monday, January 16

Spring 2022 Weekday Service begins on Tuesday, January 17. See Parking & Transportation's Service Schedules page for more information.
Before Leaving for Winter Break...
Remove all holiday decorations.
Make sure all water faucets are turned off to prevent water damage.
Turn room lights off. Draw the shades/blinds and lock all windows and doors.
Empty trash and recyclables.
Unplug all electrical equipment EXCEPT full-size refrigerators.
Empty and clean your refrigerator. Personal refrigerators should be unplugged with the refrigerator door left open to prevent mildew. Full-size refrigerators in apartments can be kept plugged in.
Take home any passports, travel tickets, medications, and any valuables.
Bring your bicycle inside. It is more secure if you put it in your room.
Store motorcycles, mopeds, electric bikes, and electric scooters outside. They are a potential fire hazard and will be removed if left inside student rooms. Permit holders should receive an email from Parking & Transportation about covered storage options.
Submit a work order for any maintenance or facilities concerns in your room so that they may be addressed by staff during the break.
Make sure that common spaces are cleaned and ready in the event that a new resident moves in. Students living in suites and apartments may receive a new suitemate or apartment-mate for Spring 2023.
Residents living in a double room with a vacancy should be similarly prepared for a new roommate to move in. Personal possessions should be limited to one side of the room, with the second closet/wardrobe, dresser, and desk clear and ready to be used by a new resident.