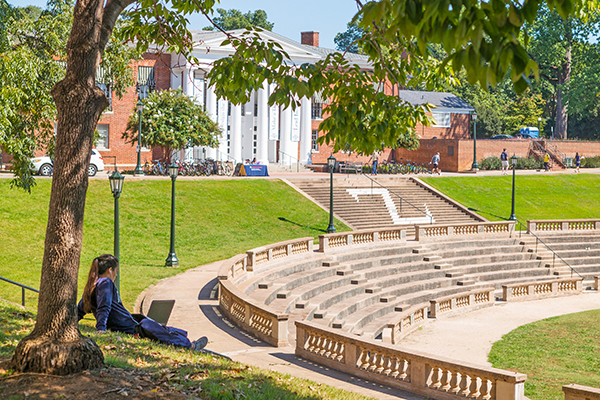 Living On-Grounds Is Easy
"Summertime, and the living is easy."
UVA Summer Session will be held from May 23 to August 12, 2022. If you are enrolled in UVA Summer Session classes for credit during any of the sessions, you are eligible for Summer Session Housing. Why not keep life simple and live on Grounds? All of the info you need to know about Summer Session housing is below.
If you are participating in a summer internship or UVA-affiliated research program, please do not apply for Summer Session Housing. Instead, please see the information available for Summer Intern Housing.
If you are part of the Summer Language Institute, you will need to apply for Sessions II and III in Summer Session Housing.
---
Where will I stay?
Housing for Summer Session is available from Sunday, May 22 to Saturday, August 13, 2022.
Summer Session Housing residents will stay in air-conditioned accommodations in the McCormick Road Hall-Style Residence Area.
The housing rate is $29.00 per person, per night, for one bed in a double-occupancy room.
What about meal plans or parking?
We do not arrange dining, meal plans, or parking for Summer Session residents. However, meal plans are available for Summer Session students through UVA Dine (434.982.5140) and parking is available through Parking & Transportation (434.924.7231).
How do I apply for housing?
To apply, please complete the Summer Session Housing application on the UVA Housing Portal.
On the application you will be asked to select the session(s) for which you need summer housing:
Session 1

May 22-June 19
28 nights total

Session 2

June 19-July 17
28 nights total

Session 3

July 17-August 13
27 nights total
If you are offered summer session housing, charges for the session(s) you select will billed to your SIS account after you accept your housing offer. You will be charged for every night in that session, even if you choose to arrive on a later date or depart on an earlier date. You will not receive a refund for early check-out.
Can I request a specific roommate for the summer?
As part of the housing application you may specify a preferred roommate. We will review all requests, but cannot guarantee that preferences can be accommodated.
What if my plans change and I need to cancel or revise my reservation?
Please contact us at housingassignments@virginia.edu to change or cancel your reservation.
Cancellation fees will apply:
If you cancel seven or more days prior to your scheduled check-in date you will receive a refund, less a $50.00 cancellation fee.
If you cancel less than one week prior to your scheduled check-in date you will receive a refund, less a $250.00 cancellation fee.