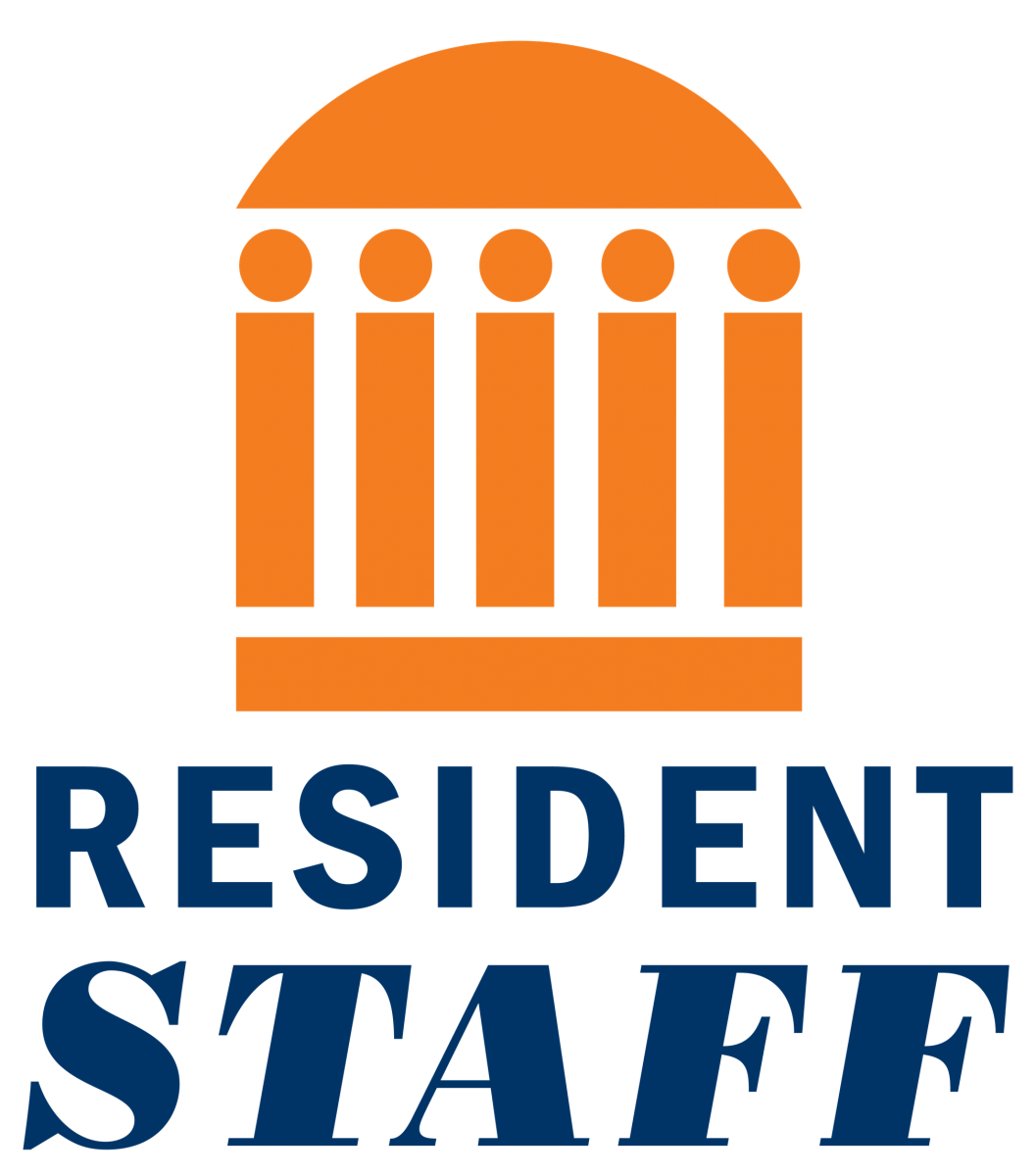 This information is provided for review only. If selected for appointment to Resident Staff, you will complete an official Program Agreement with Housing & Residence Life.
PROGRAM AGREEMENT
DISABILITY-RELATED ACCOMMODATION REQUEST
Any staffer who might need special consideration or accommodation in the performance of Resident Staff-related responsibilities due to a disability is encouraged to inform Housing & Residence Life. Disabilities might include the need for an accessible building, hearing impairment, severe allergies, etc. If you already have documentation on file with SDAC (Student Disability Access Center), please indicate below. Otherwise, you must have a treating provider complete the verification of disability form.
__  I do not have any disability-related accommodation requests.
__  I have an accommodation request and my documentation is already on file with SDAC.
__  I have an accommodation request and do not currently have documentation on file, but will file documentation with SDAC as soon as possible.
If you have other accommodation requests that you'd like to share or discuss, please contact Andy Petters at amp3ak@virginia.edu.
GENERAL INFORMATION
The Resident Staff appointment is for the entire academic year beginning with training in early August (RAs) until all respective residents have vacated in May. This includes all dates that our residential facilities are open to students (the Fall semester, January Term, the Spring semester, and breaks/recesses). Additional requirements exist for Resident Staff in upperclass, language houses, and residential colleges through Final Exercises.
 
There will be Resident Staff in residence throughout the entire academic year. Minimal staff presence during January Term is at least one staff member per association. Extra staff presence may also be required during January Term to support residents going through ISC recruitment.
 
Resident Staff must meet all of the terms and the conditions of appointment set forth in this Agreement, as well as in the respective RA or CA position description, or as otherwise requested by Housing & Residence Life or the University.
 
Re-appointment to Resident Staff is not guaranteed. An appraisal of each Resident Staff member's effectiveness will be conducted each semester by the direct supervisor(s). Results will be used in determining retention and promotion, and will be reviewed by the Resident Staff Appraisal Board as appropriate.
 
Remuneration for RAs includes a waiver of normal room rent and a Resident Staff Meal Plan*. Community Assistants receive a waiver of normal room rent. If a Community Assistant requests a 2- or 3-bedroom apartment, then a discount based on a single, apartment room rate will be applied to their rent. * Resident Staff Meal Plan amount/type is subject to change.
 
Remuneration through the Resident Staff program may impact or change an individual's financial aid package. It is important to check with a staff member at Student Financial Services to understand how an individual's financial aid package may be impacted or changed.
 
The basic duties as described in the respective RA or CA position descriptions will be performed as expeditiously and effectively as possible. Additional responsibilities and expectations will be communicated during trainings and throughout the year. Resident Staff members are to be thoroughly familiar with University policies and procedures.
 
RA Room assignments are made through a self-governing process determined by Senior Residents.
 
Nothing in this Agreement shall be construed as a guarantee of a Resident Staff appointment. Housing & Residence Life reserves its right to terminate the assignment or to change the appointment duration at any time, with or without good cause, for any reason not prohibited by applicable law, upon written notice to a member of Resident Staff.
 
Housing & Residence Life reserves the right to re-assign Resident Staff based on specifics needs or circumstances. Resident Staff may need to be relocated to other buildings due to facilities work, construction, emergencies, or other circumstances. This includes RA rooms that may need to be consolidated into double rooms (two RAs in a room) in the event of housing / occupancy emergency.
 
If a member of Resident Staff resigns from the position, is removed from the position, withdraws, or is removed from the University of Virginia, the University will be reimbursed for any Resident Staff-related credits to the student's account; the student will be required to vacate the current room assignment and will be assigned to a new room in a different residence hall; the student may be required to vacate any other position within Housing & Residence Life (i.e., front desk worker, mailroom assistant, conference services assistant, etc.)
 
The University of Virginia does not discriminate on the basis of age, color, disability, gender identity, marital status, national or ethnic origin, political affiliation, race, religion, sex (including pregnancy), sexual orientation, veteran status, and family and genetic information, in its programs and activities. The Notice of Non-Discrimination and Equal Opportunity and more information can be found on the EOCR website.
 
The core values of Housing & Residence Life are multiculturalism, collaboration, personal accountability, empowerment, critical thinking, and customer service. Resident Staff are expected to incorporate these core values into their respective roles.
 
PROFESSIONALISM AND PERSONAL ACCOUNTABILITY
Personal conduct will be consistent with the position of a Resident Staff member. Unacceptable behavior is subject to review by the Appraisal Board and may result in removal from the position.
 
Resident Staff members act as agents of the University and are expected to support and comply with University policies and to encourage other students to do the same. Violation of any University policy by a staffer will be referred to the Resident Staff Appraisal Board.
 
Resident Staff should not engage in insubordinate behavior, demonstrate continuous negative attitudes, create team conflicts, or cause other performance issues.
 
Resident Staff are trusted with confidential information and are expected to be ethical and show integrity with the use of that information. Confidential information shared in discussion or in written/electronic materials should not be shared with others. You are responsible for maintaining confidentiality. This includes, but is not limited to, resident follow-up meetings and SafeGrounds records.
 
The Chairs of the Resident Staff program represent Resident Staff to the University, the press, and the public. Any inquiries by the press or other media outlets seeking a statement by, or the official position of, the Resident Staff program should be referred to the Chairs. Individual Resident Staff members may speak to the media or public in their individual capacities, making clear they are not speaking on behalf of or for the program.
 
Resident Staff members are advised not to have supervisory, evaluative, or advisory relationships or authority over anyone with whom they have or have had an amorous or intimate relationship. Likewise, Resident Staff are advised not to enter into such relationships during their appointment term. Any related concerns about job performance as a result of such relationships will be forwarded to the Appraisal Board.
 
When affiliated with a Resident Staff-sponsored event, initiative, or in the capacity of their positions, Resident Staff are not permitted to transport residents in their personal vehicles or ride in other residents' cars.
 
Resident Staff may not consume alcohol or be under the influence of alcohol at any time during coverage.
 
Coverage responsibilities occur throughout the semester to address violations of policy and assist with crisis management. Coverage is at minimum three days per week (Thursdays on-call and Fridays & Saturdays regular coverage). Resident Staff must be available to their respective residents at all other times. The Chair(s) of the Resident Staff program determines the expectations for coverage. Coverage may also be required during major University events, Reading Days, and in the event of emergencies. Expectations, information and dates will be reviewed during fall training.
 
Resident Staff may only use a Master Key as directed by a HRL professional staff member or University Police, and must immediately report if the key is lost or stolen.
 
Sexual and gender-based harassment and other forms of interpersonal violence are prohibited by federal law and University policy. The University has the authority to investigate reports of such incidents made against students, including student members of the Resident Staff program, and to determine appropriate sanctions. Resident Staff are required to report any possible violations of the Policy on Sexual and Gender-Based Harassment and Other Forms of Interpersonal Violence immediately through the designated system.
 
Resident Staff are designated as a "Campus Security Authority (CSA)." Clery Act Crimes ("Clery Crimes") must be reported to the University immediately through the designated system. Information about the Clery Act and "Clery Crimes" can be viewed on the UVA Clery Act website.
 
Hazing is a crime in Virginia and is prohibited by University policy and the University Standards of Conduct. State or local law enforcement agencies investigate allegations of hazing under Virginia law. The Office of the Dean of Students investigates allegations of hazing under University policy. The University has created a Hoos Against Hazing website that provides information and resources aimed at hazing prevention and education.
 
ACADEMIC EXPECTATIONS
Resident Staff are required to maintain a cumulative GPA of 2.25 and be in good academic standing as defined by their school during the term of appointment. Failure to meet this requirement will result in removal from Resident Staff. Resident Staff may be reinstated to the program when they have regained academic eligibility.
 
Grades and academic standing will be reviewed at the end of each semester:


Any student not in good standing with their school of enrollment will be required to leave staff.
A semester GPA lower than 2.0 will result in removal from Resident Staff.
A semester GPA between 2.0 and 2.25 will result in "probationary status" which requires the cessation of other outside activities.
Multiple occurrences of semester GPA lower than 2.25, regardless of academic standing, will result in removal from Resident Staff.

In each of these instances, Resident Staff are eligible to return to the program when their academic standing has been repaired. If a staffer knows, or has reason to believe that they will fail to meet the academic requirements as stated above, they must report their semester grades (whether Spring or Fall) directly to the Assistant Dean to facilitate a timely review of academic eligibility for the program.
TRAINING AND OTHER TIME COMMITMENTS
Attendance is required at all training sessions – this includes O-Week, in-service trainings, selections training, and any area/all-staff meetings as necessary. Dates and times will be communicated once finalized. Housing & Residence Life reserves its right to change formats, locations, dates, and times of required training sessions as needed. Preliminary dates are included below.

Spring all-staff orientation: Wednesday, 4/15/20, 7-8 pm in Gilmer 130
O-Week: Saturday, 8/8/20 (RAs return by 5 pm) - Monday, 8/17/20
Prep Week: Tuesday, 8/18/20 - Thursday, 8/20/20
Move-in weekend: Friday, 8/21/20 & Saturday, 8/22/20
J-Days training: Friday, 1/15/21 (New - Spring RAs arrive by Thursday 1/14/21). All staff return by 5 pm on Friday, 1/15/21. Saturday, 1/16/21 (All Staff Training).

Resident Staff may not hold or accept employment on or off-Grounds or participate in any extra-curricular activities totaling more than 10 hours per week without approval of the Associate Dean. Extracurricular activities and employment must not conflict with the time needed to be accessible to the students and staff.
 
Academic-related internships or other requirements (including student teaching related obligations, nursing clinicals, co-ops and practica, etc.) are limited to a maximum of twenty (20) hours per week, including travel time. If Resident Staff members choose to seek employment and fulfill an academic-related requirement, the total hours for both combined cannot exceed 20 hours. Due to the time commitment of some academic obligations, it may not be possible to be on Resident Staff. Such obligations include those that create a time conflict which keeps a student away from Grounds and which make it impossible to fulfill the expectations of the position. Any exceptions to this expectation will be reviewed on a case-by-case basis by the Associate Dean.
 
Resident Staff will be in residence prior to the arrival of residents for the Fall semester and the return of their residents from all recesses and semester breaks. Resident Staff will remain on duty and be available until all residents for whom they are responsible have departed for recesses and semester completion. Resident Staff members may be released early only after receiving approval from Housing & Residence Life. HRL will provide dates and times for all trainings and arrival and departure dates.
 
The RA or CA position is not easily translated into hours worked per day or week. It is estimated that approximately 10 hours per week is required on average to perform the outlined duties and responsibilities.
 
After having reviewed the position description and this program agreement, I accept a Resident Staff appointment for 2020-2021. In accepting this appointment, I agree to all the terms of the position as outlined above and in the position description. Additionally, I acknowledge that I am agreeing to act as an agent of the University of Virginia when serving in the position.
DATE _______________________________  SIGNATURE _____________________________________________________________________________________
 
Document Information
Resident Staff Program Agreement
Revised: 09-18-2020