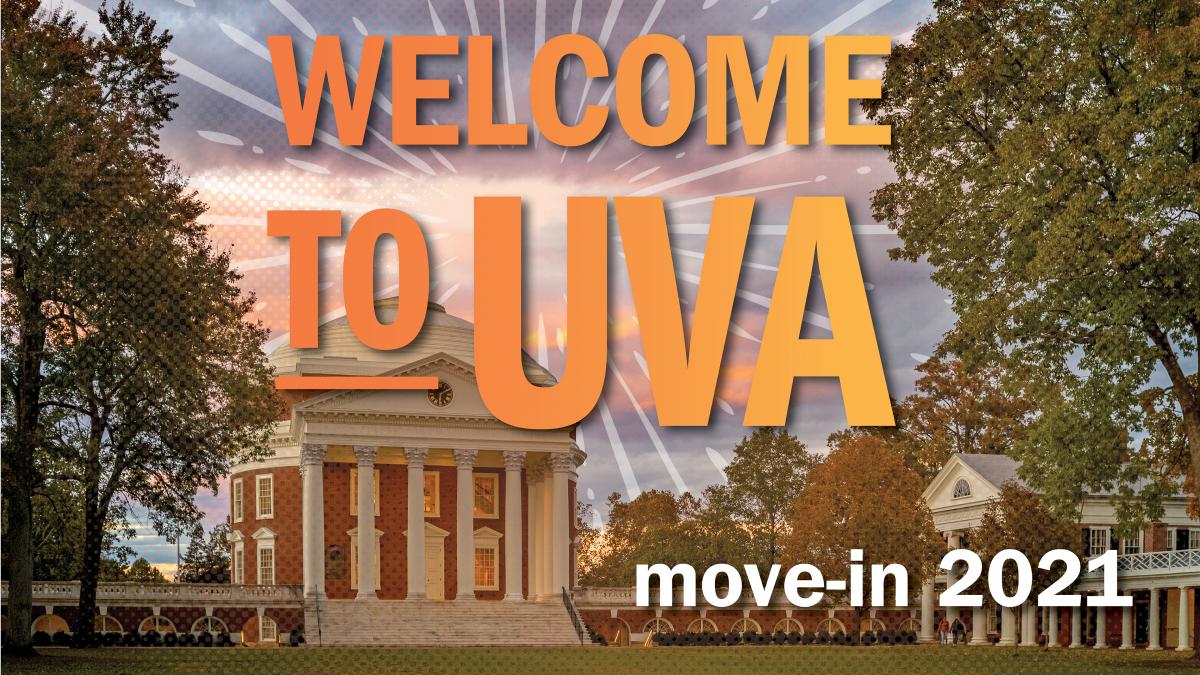 Undergraduate Move-In Dates
Dates for the Fall 2021 move-in process will be as follows:
Lawn residents: Friday, August 13
Incoming first-year students: Wednesday, August 18 or Thursday, August 19, depending on your room assignment *
Incoming transfer students: Friday, August 20 *
Returning second-year students: Friday, August 20 *
Returning third-year and fourth-year students (except Lawn): Saturday, August 21 or later
* To help manage traffic flow on move-in days, move-in appointments will be assigned to incoming first-year students, incoming transfer students, and returning second-year students in July. Students who are unable to move in during their assigned appointment will have the ability to select a different appointment time (but not a different date) on the housing portal, beginning on July 7.
Note that the appointments relate to your arrival time and initial car unloading only. After unloading and moving your car, you are welcome to take additional time getting settled in your new home.
Fall 2021 Move-In Webinar
Watch our video webinar that's all about Fall 2021 move-in! Topics include tasks to complete prior to arrival, what to bring, move-in dates and appointments, what to expect during move-in days, and much more! We also share links to online resources where you can find additional information about life on Grounds at UVA.
First-Year Buildings by Date
Please see below for the schedule of first-year housing move-in by date. Note that first-years will be assigned a specific move-in time on the date for their building.
Wednesday, August 18
Bonnycastle
Courtenay
Dillard - suites 131, 249, 331-356
Echols
Gooch - suites 103-113, 122-130, 201, 301-309
Kellogg
Kent
Lefevre
Page
Shannon
Tuttle-Dunnington
Watson-Webb
Woody
Thursday, August 19
Balz-Dobie
Brown College (all buildings)
Cauthen
Dabney
Dillard - suites 132-160, 357-360
Dunglison
Emmet
Gibbons
Gooch - suites 114-121, 310-330
Hancock
Hereford College (all buildings)
Humphreys
IRC (all buildings)
Lile-Maupin
Metcalf
Undergraduate Early and Late Arrivals
Early Arrivals
No early arrivals will be permitted before Monday, August 16.
If you are part of a University group that requires your presence on Grounds before your scheduled move-in date (such as Greeters or athletes), your program leader will contact Housing & Residence Life to coordinate the approval for early arrivals.
Students who are part of a University group as described above but wish to move in before the required arrival date, and returning students who are not part of a sponsored group but wish to arrive early, need to submit an Early Arrival Application (available beginning on July 7 on the housing portal).
Incoming first-year students are generally not allowed to move in before their scheduled date unless they are part of a sponsored group.
If you are approved for an early arrival, you may check-in between 8:00 a.m. and 5:00 p.m. on your approved move-in date.
The deadline to request an early arrival is 5:00 p.m. on Monday, August 2, 2021.
Late Arrivals
We recommend incoming first-year and transfer students arrive on their scheduled move-in date in order to participate in Wahoo Welcome events. Returning students may arrive later, if they choose.
All students planning to arrive after their scheduled move-in date should inform Housing & Residence Life by email.
There will be no prorated or refunded housing charges for students who remain enrolled at the University, but arrive late or fail to move in.
International Arrivals
Students arriving from abroad should make their travel plans known to the International Studies Office by completing this survey so the University can advise them about their arrival. Student Health has created a COVID-19 FAQ page with helpful information.
Move-In Process
Required Tasks Prior to Move-In
Building Access
Front doors to buildings will be unlocked when that building has move-in appointments. Each student's University ID card will be activated (allowing access to that student's room) on the day of their move-in appointment, as long as the required pre-arrival tasks have been completed. You may arrive at any time during your assigned appointment.
Incoming first-year and transfer students: As you arrive and enter your building for the first time, you will need to check in. Resident Advisors (RAs) from your building will be at a table (usually located in front of the building or in the building lobby) to check you in and issue your University of Virginia ID card. You will need to show a valid government-issued photo ID (driver's license, passport or US military ID). Students who are approved for early or late arrival will receive instructions for picking up ID cards on their approved date.
What to Bring
Specifics related to Housing & Residence policies for permissible items can be found on our What to Bring page.
Packing Tip: You can save packing space by removing items from their packaging. This step will eliminate your need to dispose of boxes during move-in, too! Packing items in plastic bins instead will make them easy to transport, and will protect your belongings from moisture and pests. After arriving, you can use the bins to store your items under your bed or on top of your closet.
Parking
Parking close to residence halls is only available during your scheduled move-in appointment time. You will be able to temporarily unload your car relatively close to your building. Look for signs directing you to your area once you arrive on Grounds. You will have 15 minutes to unload your belongings and a driver must stay with the car at all times. It is important that you then move your car to longer-term parking as quickly as you can. Moving your car will help with the traffic flow on Grounds and in the local community.
Please see Parking and Transportation's Student Move-In page for detailed information regarding the parking process and rules as well as housing area maps for fall move-in.
Greeters
Greeters are available during scheduled move-in times to help first-years, second-years, and incoming transfer students transport items to their rooms. Look for volunteers wearing brightly-colored t-shirts! Greeters are not available to set up rooms, however. Also, if you arrive outside of your assigned appointment, greeters will not be available to assist.
Lowering or Raising Beds
If you would like to lower or raise your lofted bed and you have access to a rubber mallet, we recommend that you bring it with you. While we have a limited supply of mallets for students/families to borrow, it would be helpful for your to bring one if you have it, given the time constraints of move-in day appointment.
To change the level of your lofted bed, remove the mattress from the bed, and then use the rubber mallet to tap underneath the metal frame at each of the four corners. Once the frame is free, it can be moved to the new height. Then use the mallet to tap on the top of the frame at each corner to hook it back on to the headboard and footboard.
Safety Protocols
The following protocols will be in place for Fall 2021 move-in:
Face coverings are required for those who are not vaccinated.
Facilities Management housekeeping staff will provide cleaning of high-touch surfaces during the move-in period.
Hand sanitation stations will be available on the entry level of hall-style buildings.
Students or guests with any symptoms of COVID-19 (fever of 100.0 degrees or greater, shortness of breath, cough) should not come to Grounds.
---
Graduate Students, Faculty, and Staff
Your move-in date is specified on your housing agreement. You can pick up keys at the Housing & Residence Life offices (425 Tree House Drive) at any time between 8:00 a.m. and 5:00 p.m. on the day your agreement begins.
Please see your room assignment and our Graduate Housing FAQ or Faculty/Staff Housing FAQ for other important move-in information.
---
On-Grounds Resources
After you arrive on Grounds, you may find the following resources helpful as you meet your resident advisor and get to know your roommate (if you have one). You'll want to check out computing information for new students, and learn about cell phone service at UVA and television/online media options.
See below for other helpful links as you started on your UVA journey.