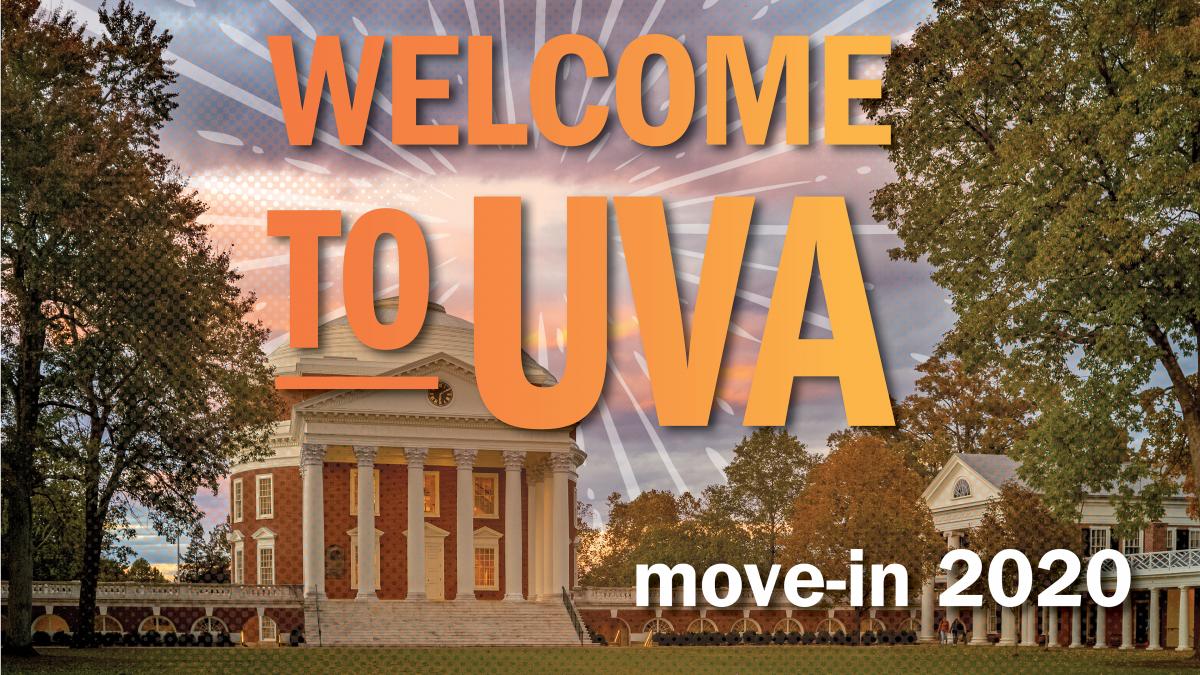 August 4, 2020

Undergraduate on-Grounds residents: with the announcement of the new Fall 2020 opening date, you have more time to decide about your housing for the upcoming semester.

If you choose to participate remotely in online classes only, you can email housingassignments@virginia.edu by the August 24 deadline to be released from your housing agreement without penalty.

In-person courses for undergraduates will begin on September 8, and students will be able to move into residence halls several days before then. The revised fall 2020 move-in dates and appointment process are detailed below.

Please see our Return to Grounds page for updated FAQs regarding Fall 2020.

We thank you for your continued patience and understanding.
Housing & Residence Life has been hard at work determining the best and safest plans for welcoming you to Grounds for the fall 2020 semester. There is no question that the UVA experience this fall will be different, including the move-in process. While students receive correspondence directly from Housing & Residence Life about housing assignments and move-in dates, the information below can help you begin to plan.
Please note that the move-in details below are subject to change. Should these plans need to be adjusted, we will update this page as needed and communicate any changes to on-Grounds residents by email.
---
Move-In Process
Required Tasks Prior to Move-In
In order to be cleared to move into on-Grounds housing, students must complete the COVID-19 Mitigation Requirements in SIS. Those requirements include testing, viewing a student-produced video about rules and norms, and signing an agreement pledging to maintain a healthy and safe environment during the pandemic. Dean of Students Allen Groves summarized these requirements in his August 5 email.
Building Access
Front doors to buildings will be unlocked when that building has move-in appointments. Each student's University ID card will be activated (allowing access to that student's room) on the day of their move-in appointment.
First-year students will pick up their University of Virginia ID from a Resident Advisor (RA) on the ground floor of their building. Incoming students should bring a valid government-issued photo ID (driver's license, passport or US military ID) in order to obtain their ID card.
What to Bring
Students are urged to bring limited belongings, including clothes, bedding, food/snacks/beverages, and any other items that will allow them to be comfortable in their rooms for the semester. No bulky furniture or futons should be brought into undergraduate on-Grounds housing.
Specifics related to Housing & Residence policies for permissible items can be found on our What to Bring page.
Parking
Parking close to residence halls is only available during your scheduled move-in appointment time.
Please see Parking and Transportation's Student Move-In -- Fall 2020 page for detailed information regarding the parking process and rules as well as housing area maps for fall move-in.
Greeters
There will not be Greeters or other volunteers to assist with moving student belongings into rooms for fall 2020. There may be volunteers to help with directions at a distance away from the buildings. No carts or bins will be available for fall 2020 move-in.
Safety Protocols
The following protocols will be in place for Fall 2020 move-in:
Face coverings are required.
All those participating in fall 2020 move-in must maintain social distancing (keeping six feet apart) from all other participants. A maximum of three people per student (the student and two guests) can participate in move-in. The two guests should be limited to people needed to assist with the moving of items. Unfortunately, "spectators" (such as young siblings) cannot be permitted.
Facilities Management housekeeping staff will provide cleaning of high-touch surfaces during the move-in period.
Hand sanitation stations will be available on the entry level of hall-style buildings.
Guests assisting with move-in may only be in the building for the move-in appointment window.
Students or guests with any symptoms of COVID-19 (fever of 100.0 degrees or greater, shortness of breath, cough) or who are immunocompromised or otherwise at risk should not come to Grounds.
---
Undergraduate Students
In-person courses for undergraduates will begin on September 8, and students will be able to move into residence halls several days before then. The revised move-in dates and appointment process are detailed below.
Please see our Return to Grounds page for updated FAQs regarding Fall 2020.
Revised Fall 2020 Move-In Dates
Move-in appointments for first-year students, transfer students, and most upperclass students will be assigned. Timeslots will occur on the following dates and times, and will not be clustered by building or floor:

Thursday, September 3 from 4:00-8:00 p.m.
Friday, September 4 from 4:00-8:00 p.m.
Saturday, September 5 from 8:00 a.m.-8:00 p.m.
Sunday, September 6 from 8:00 a.m.-8:00 p.m.
 

Housing & Residence Life is unable to take requests when assigning move-in timeslots.
 
Students living on the Lawn will retain their previously scheduled move-in appointments, and will not be assigned a new move-in timeslot.
 
The University recognizes that the delayed opening of the residence halls may have caused certain challenges, and is offering Delayed Opening Assistance. On the application, students may designates if they need emergency housing assistance. Please note that emergency bridge housing is limited, and will not be that student's fall housing assignment. Students should seek this option only if a true emergency situation exists. Requests will be reviewed on a case-by-case basis, and those based on convenience will be denied.
Revised Appointment Process
As stated above, revised move-in appointments will be assigned.
 
Students will receive their new move-in appointment time on Thursday, August 13.
 
Students who are unable to move in during their assigned timeslot will have the ability to select a different appointment time on the housing portal. The portal will open for alternate appointment selection from Friday, August 14 at 9:00 a.m. to Monday, August 24 at 5:00 p.m.
 
Alternate appointment times will be available as follows:

A few additional timeslots will be available during the standard move-in times listed above.
Thursday, September 3 from 8:00 a.m.-4:00 p.m.
Friday, September 4 from 8:00 a.m.-4:00 p.m.
Monday, September 7 from 8:00 a.m.-8:00 p.m.
Upperclass students can also select times from Monday, August 31 through Wednesday, September 2 (8:00 a.m.-8:00 p.m. each day).
---
Graduate Students, Faculty, and Staff
Your move-in date is specified on your housing agreement. Move-in for graduate students, faculty, and staff is unaffected by the delay in undergraduate move-in and start of in-person classes.
Residents with a housing agreement beginning on August 3 or 14 will need to make an appointment to pick up their keys by logging in to the housing portal and clicking on "Key Pick-Up" in the navigation bar. Keys may be picked up only during the appointment window you select on the portal.
Residents with a housing agreement beginning on any other date can pick up keys at the Housing & Residence Life Main Office at any time between 8:00 a.m. and 5:00 p.m. on the day their agreement begins.
Please see your room assignment and our Graduate Housing FAQ or Faculty/Staff Housing FAQ for other important move-in information.
---
On-Grounds Resources
After you arrive on Grounds, you may find the following resources helpful as you meet your resident advisor and get to know your roommate (if you have one). You'll want to check out computing information for new students, and learn about cell phone service at UVA and television/online media options.
See below for other helpful links as you started on your UVA journey.