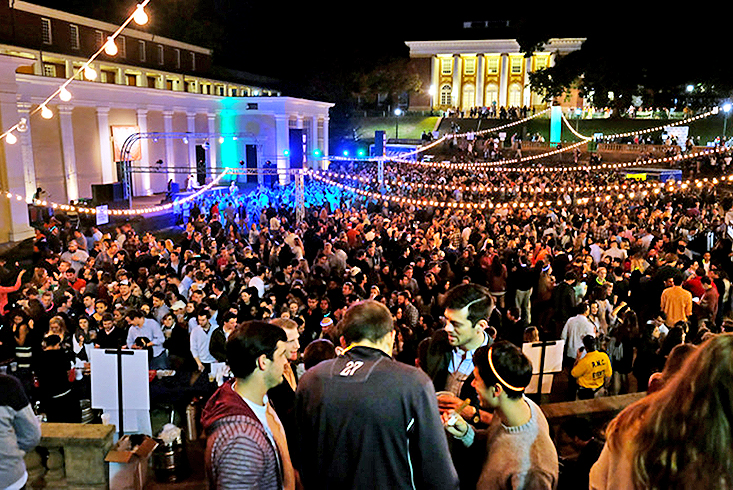 Welcome Back to Grounds
Deadline to book accommodations for Reunions: May 25, 2017 at 5:00 p.m.

We work closely with the Alumni Association to make on-Grounds housing options available to alumni attending UVA Reunions. Rooms are available as follows:

Classes of 1957-1982 and T.J. Society
Thursday, June 1, 2017 to Sunday, June 4, 2017

Classes of 1987-2012
Thursday, June 8, 2017 to Sunday, June 11, 2017

For more information, contact Housing & Residence Life Conference Services at 434.924.4479.

Accommodations
Each guest will receive a linen package that includes a bed pillow, pillow case, two sheets, a bedspread, two bath towels, a washcloth, and a bath mat. A one-time fee of $20 per person will be charged for this package.
It should be noted that rooms are not equipped with hangers, irons or ironing boards, hair dryers, or area lamps (overhead lighting only). Guests are responsible for supplying additional amenities as needed, as well as personal toiletry items including shampoo, soap, etc.
University housekeeping staff will remove trash from the common areas and sanitize the bathrooms on a daily basis. Personal belongings must be removed from common living areas and common baths in order for the housekeepers to clean.
Please keep in mind that the Reunions Weekend housing rates are per person. Reservations secure individual beds, not a full apartment or room within in an apartment. While guests from different reserving parties will not share the same bedroom, they may share the same apartment. In order to provide the maximum availability for our guests, all guests in the same party will be housed together.
Should any member of your party require disability-related or medical accommodation during your stay for Reunions, please contact our office at conferenceservices@virginia.edu or 434.924.4479.
Options
Lambeth Field Apartments: Located close to Central Grounds, all apartments in Lambeth are air-conditioned and contain either two or three double-occupancy bedrooms. Each bedroom in Lambeth is equipped with two loft-style beds. Each apartment has 1½ or 2 baths, a living room, and a kitchen with stove, refrigerator, and sink.
Rate: $31.00 per person, per night
Linen packet: $20 per person (one-time fee)
 
Alderman Road Residence Area: Newly constructed, these air-conditioned residence buildings offer traditional hall-style accommodations with double-occupancy rooms and loft-style beds. The residence halls include shared common areas and bathrooms.
Rate: $27.00 per person, per night
Linen packet: $20 per person (one-time fee)
Lawn or Range rooms are also available. Lawn and Range accommodations are handled directly by the Alumni Association.
Make Your Reservation
All reservations must be made online with a valid credit card using the Reunions Weekend 2017 Housing Reservation Form. Payment is due when you make your reservation. Also be sure to include the names of all members in the party when making your reservation. Whenever possible, guests in the same reservation will be housed together. Note that any guest additions are subject to availability.
Interested in staying on the Lawn or Range for Reunions? Lawn and Range accommodations are handled directly by the Alumni Association.
All cancellations and adjustments to the original reservation, including the removal of individual guests from a reservation, must be submitted using the Reunions Weekend 2017 Change and Cancellation Form.  Adjustments to your reservation need to be made on this form in order to be honored. Cancellations made after May 1, 2017 will be subject to a $50.00 per person cancellation fee. Cancellation requests will NOT be accepted after May 25, 2017 and are not eligible for refunds.