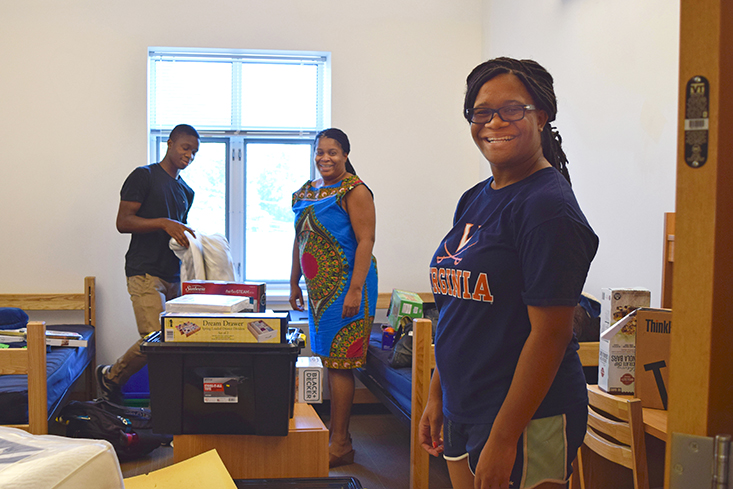 You will receive correspondence directly from Housing & Residence Life about your housing assignment and move-in date. The general information below can help you begin to plan.
Also see our Move-In FAQ for answers to commonly-asked questions and additional details.
Please note, University ID cards are picked up at the ID Office in Observatory Hill Dining Hall, not at Housing & Residence Life.
Undergraduate Students
Incoming First-Year Students
Fall Semester Opening for first-year students will occur on either Friday, August 18 or Saturday, August 19, depending on your room assignment. Please make plans to move into your on-Grounds housing assignment on the date that your building will be opening.
Early arrivals are only permitted in special circumstances. Please email housing@virginia.edu if you have a need to arrive early.
Upperclass and Transfer Students
Unless approved for an early arrival, all students in upperclass housing may move in on or after Friday, August 18. Those who wish to be considered for early check-in and are not part of a University group requiring their presence on Grounds before Opening need to submit an Early Arrival Application by August 8, 2017.
Undergraduate Late Arrivals
Sunday, August 20
Check-in for all undergraduate residence areas will take place at the Housing & Residence Life Main Office in Gibbons House from 10:00 a.m. until 4:00 p.m.
Monday, August 21
Check-in at the Housing & Residence Life Main Office in Gibbons House from 8:00 a.m. until 4:30 p.m.
Tuesday, August 22 and beyond
Students arriving on or after Tuesday, August 22 must inform Housing & Residence Life in order to keep their housing assignment. If you enroll at the University but fail to check into your assigned residence, you are still responsible for payment of housing charges for the entire academic year.
Graduate Students, Faculty, and Staff
Your move-in date is specified on your housing agreement. Keys can be picked up at the Housing & Residence Life Main Office during business hours: Monday - Friday (except holidays), 8:00 a.m. to 5:00 p.m.
Please see your room assignment and our Graduate and Faculty/Staff FAQ for other important move-in information.