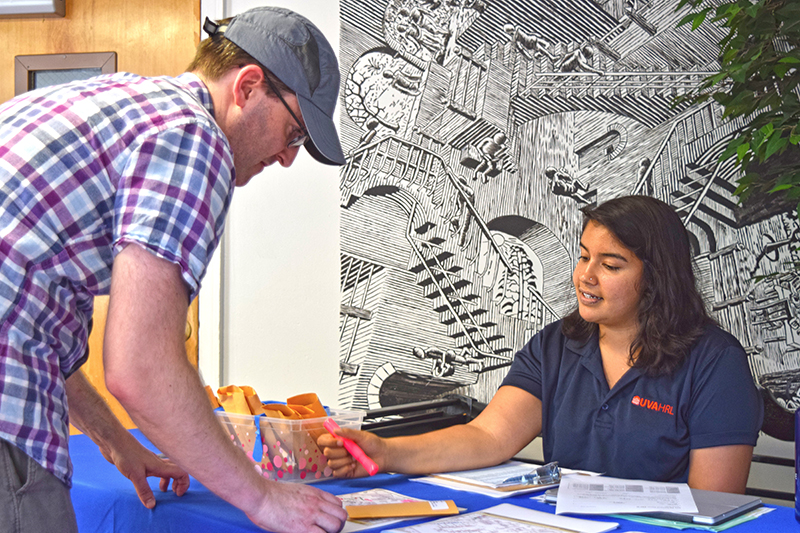 Staying at UVA
We want your stay at the University of Virginia to be as easy and enjoyable as possible! Please see below for both general information and topics of interest to all guests staying in University housing. Also be sure to check our Conference Services FAQ for answers to common questions about staying with us.

Directions to University Facilities
For directions to events being held at University facilities, please either consult with the head of your program or go to the University of Virginia Maps & Directions webpage.
For directions to Conference Services, please go to the Contact page.
Parking
In order to park at the University of Virginia, you will need a parking permit. Parking may be included with your conference or event, or you may be given the opportunity to purchase a parking permit when you arrive. For guests checking in at the Conference Services office, a staff member will direct you to the appropriate parking lot.

For Guests Staying in University Housing (Residence Halls)
Check-In Times
Check-in is between 2:00 and 8:00 p.m. on your scheduled day of arrival. In order to adequately prepare your room, we ask that you do not attempt to check-in earlier than this time. If you are attending a conference at UVA, please contact your group coordinator for specific information concerning check-in.
If you are scheduled to arrive after 8:00 p.m., please call 434.924.4479, and a staff member will be glad to meet you at the Conference Services office to check you in.
Each program has a specific check-in location that should be noted in the literature you received. If you are unsure, please call Conference Services at 434.924.4479, and we will be happy to inform you of the correct location.

Key Deposit
Please bring a Visa, MasterCard, American Express, or Discover card to check-in. Your card information will be taken in order to secure a key deposit.
We require a key deposit in the event that there is a misplaced or damaged key. For the safety of all of our guests, the University immediately changes all affected locks whenever a key is determined to be missing. Your credit card number will not be charged unless your keys are missing at the time of checkout. If the correct keys are returned at checkout, the card number will be removed from our records.
Check-Out
Check-out is at 11:00 a.m. You may return your keys and access cards to our office at any time between 8:00 and 11:00 a.m. on the morning of your scheduled departure.
We ask that you return your keys by 11:00 a.m. so we can adequately prepare the space for the next conference that will use it. Please note that you may be charged for an additional night if you fail to return your keys on time.
Unfortunately, we are not able to hold luggage in our office due to legal and security restrictions.

Lockouts and Lost Keys
If you are locked out of your room, please call us at 434.924.4479 and we will send one of our staff members to let you back into your room. This service is available 24 hours a day. Be prepared to show proper ID in order to verify that you are the guest staying in the room in question.
If you lose your access card and/or keys, please contact us immediately at 434.924.4479. In order to maintain high security in the residence area, we will change all affected locks and give you a new set of keys. The lock change fee will be charged to the credit card that you provided as a key deposit.
Maintenance
Report any maintenance requests to Conference Services as soon as possible at 434.924.4479. You will not be charged for any needed maintenance.
Receiving Mail
Yes. Please have your letters and packages addressed to:
1 Page-Emmet
[Name of Conference]
Charlottesville, VA 22904
All mail to summer residents and guests will be delivered to the Shannon mailroom.