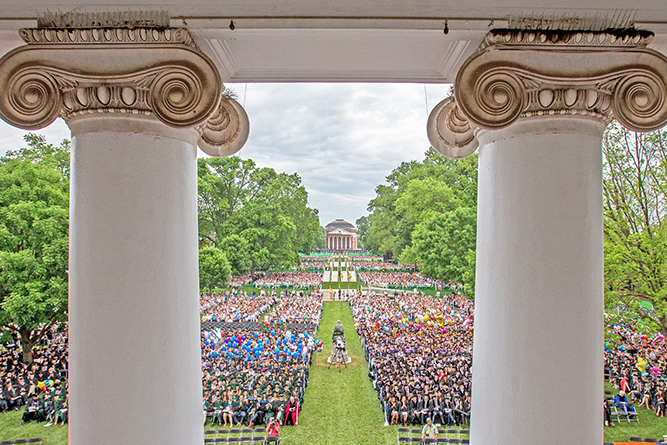 Stay With Us for Graduation
We are pleased to offer on-Grounds housing for guests attending graduation events during Finals Weekend 2017. Reservations will be offered on a first-come, first-served basis.

For more information, contact Housing & Residence Life Conference Services at 434.924.4479.

Accommodations
To provide an affordable, on-Grounds housing option for Finals Weekend with no minimum stay requirement, we offer student-style accommodations in dorm rooms. Located in our new hall-style residences in the Alderman Road Residence Area, these air-conditioned rooms include two twin lofted beds, two desks, two dressers, and two wardrobes.
The residence halls feature shared common areas and bathrooms. Each guest will receive a linen package that includes a bed pillow, pillow case, two sheets, a bedspread, two bath towels, a washcloth, and a bath mat. A one-time fee of $20 per person will be charged for this package.
It should be noted that rooms are not equipped with hangers, irons or ironing boards, hair dryers, or area lamps (overhead lighting only). Guests are responsible for supplying additional amenities as needed, as well as personal toiletry items including shampoo, soap, etc.
In order to provide the maximum room availability, all guests in the same party will be housed in as few rooms as possible, based on double occupancy (i.e. a group of five or a group of six would each be assigned to three rooms). Only members of the same party will be assigned to the same room.
Should any member of your party require disability-related or medical accommodation during your stay for Finals Weekend, please contact our office at conferenceservices@virginia.edu or 434.924.4479.
Pricing
Housing in dorm rooms is offered as an affordable alternative for families during Finals Weekend. The rate is $62.00 per person, per bed, per night. A complimentary continental breakfast is included in this rate and will be provided in the lobby of your residence hall.
Rooms will be available as early as Thursday, May 18, 2017 after 2:00 p.m. All guests must check out by 11:00 a.m. on Monday, May 22, 2017.
Make Your Reservation
All reservations must be made online with a valid credit card using the Finals Weekend 2017 Housing Reservation Form. Payment is due when you make your reservation. Also be sure to include the names of all members in the party when making your reservation.
Please note that it is not necessary to include the graduating student in the list of guests. Graduating students living on Grounds stay in their 2016 - 2017 academic year housing through the weekend, and do not need to make an additional reservation.
All cancellations and adjustments to the original reservation, including the removal of individual guests from a reservation, must be submitted using the Finals Weekend 2017 Change and Cancellation Form.  Adjustments to your reservation need to be made on this form in order to be honored.
Cancellations made after April 18, 2017 will be assessed a $50.00 per person cancellation fee.
Cancellation requests will NOT be accepted after May 11, 2017 and are not eligible for refunds.
Parking
Free parking is available in the S6 lot next to the Student Activities Building (800 Alderman Road, Charlottesville, VA 22903) and in the S9 parking lots at Hereford Residential College (along Hereford Drive) on a first-come, first-served basis. Overflow parking is also available at University Hall (300 Massie Road, Charlottesville VA 22903) on Friday and Saturday.